VPR's Tom Schwartz Explains How Coronavirus May Affect Stassi Schroeder's Wedding
Stassi and Beau Clark's plan was to marry in Italy.
Ashley Hoover Baker March 3, 2020 4:27pm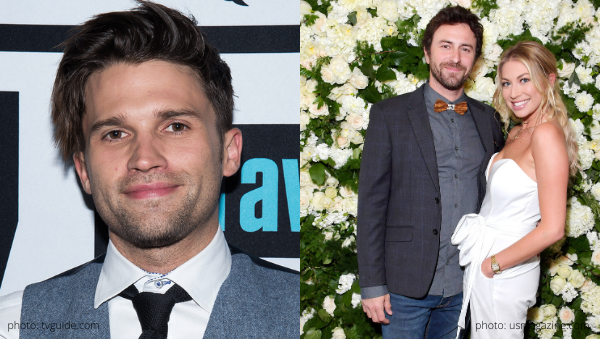 Vanderpump Rules star, Tom Schwartz, explains how coronavirus may affect Stassi Schroeder and Beau Clark's wedding in Rome, Italy.
Us Weekly caught up with the Tom Tom owner at the 2020 NASCAR Auto Club 400 at Fontana, California. "Yeah. I mean, like, I feel for them. I hope they figure everything out and then obviously, I'll do anything I can to help out."
The former SUR bartender explained that Stassi's upcoming ceremony in October 2020 in Rome hasn't switched locations- for  now, at least.
"Tentatively. As of now they are [still getting married in Italy], but it could change any day," Tom explained, considering the Italian cases of the virus. "As of now, they're so excited. They're still gushing, but it's on their radar. They're well aware of what's going on."
Tom Sandoval couldn't help interjecting- that is his move after all…."I mean, as of right now, it seems like it's going to happen, but you know, it's obviously a long way til then," detailed one of the other Tom Tom owners. "They're dealing with a lot. Especially getting married overseas."
"You know, my thoughts are with them with dealing with that. I wish I could help out, but I know it's how it is. It's kind of something you got to just want do on your own and handle on your own," Sandoval continued.
"Plus, getting a camera crew out there, like people in Italy, don't really respond well to filming a reality show, you know? Plus, with the Corona virus and everything, it's just [tough]."
Stassi and the Toms VPR costar, Jax Taylor, has a great deal of free time on his hands. The current SUR bartender spoke with Bravo TV's Daily Dish to give his predictions of the future of his cast mates' relationships. In case you want to read what Jax said about the NY Times best selling author and her fiance's future together, here ya go!
If you can't get enough VPR in your life, you should check out the On This Day Entertainment podcast. Here is the most recent episode.
Do you think the #FromDarkToClark nuptials will proceed in Italy, or will the coronavirus force them to relocate? Drop your predictions off in the comments!
---