Eagle-Eyed VPR Fans Think Raquel Leviss Hid Narcotics On Camera With Tom Sandoval
Is it about the pasta?
Ashley Hoover Baker May 19, 2023 8:18am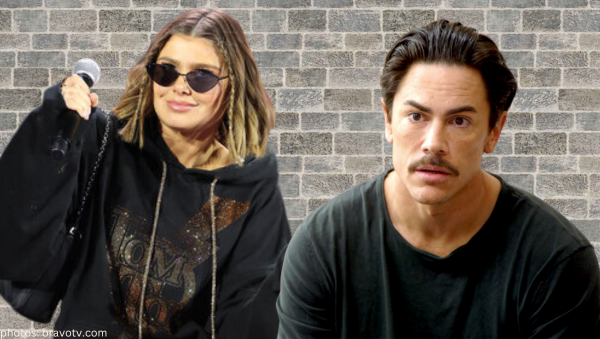 Is it about the pasta?
Vanderpump Rules fans never seize to disappoint.
After the VPR10 finale, eagle-eyed viewers caught something go down between cheaters Tom Sandoval and Raquel Leviss that isn't getting talked about enough …
In the scene where the karaoke group front man and Raquel (legal name Rachel) pronounced their love for one another – while being illuminated by galaxy lights from Amazon – the former beauty pageant contestant tried to conceal something on her kitchen counter.
When Raquel asks Sandoval, "What about your family?" you can see her Bambi eyes spot something to Tom's right (camera left).
The mistress awkwardly tried to pivot the conversation, "We don't have to talk about it," to her lover as she low-key picked up the small item in question with her left hand and sneakily put it in her right pocket.
See for yourself:
Bravoholics react:
With few exceptions, the Bravosphere has concluded it is, indeed, about the pasta.
"You can see the moment she sees the bag. Then the process of thinking…. 🙄 then she thinks she slick putting it in her pocket. He wanted the lights off…. These two lol"

"Omg maybe that's why he wanted to reshoot that scene and got so angry production wouldn't approve it!!!!!"
"Maybe that's why she's not all there"

"Maybe drugs? she looked high most of the season!"

"yes prolly a drug fueled romance, no doubt , like your 19 years old all over again😂😂that's Sandoval"
"prolly blow, it so obvious who does uppers , why u think Jax has had so many nose jobs"
"THEY are on drugs 🤣"

"I feel like it's swept under the rug how polluted the Tom's always are"

"Y'all seriously think filming their first scene together they are gonna just have a bag of coke chilling on the counter in frame!?!!! Y'all wild 😂😂"
Do you think Raquel was hiding something from the camera? If so, what do you think it was? Sound off in the comment section.
---