VPR Editor Is Fired After She Admitted To Shady Edits
Read Bri's (now deleted) open letter here!
Ashley Hoover Baker May 18, 2020 11:15am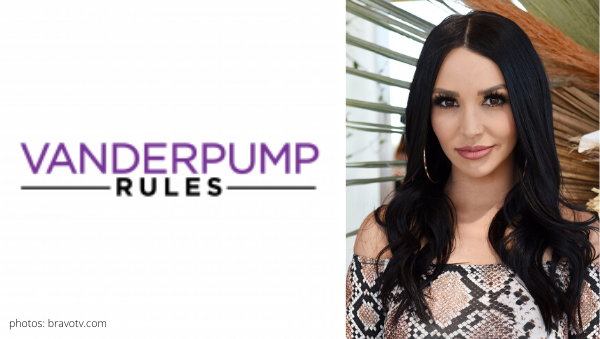 It's All Happening for Vanderpump Rules star, Scheana Shay. There is finally #JusticeForScheana after Bri Dellinger, part of VPR's editing team, admitted to manipulating edits to troll the 'One More Time' singer.
The aftermath:
Long story short, Bri was fired from the hit Bravo show. Here is the open letter she wrote, and took down. Luckily, I copied the letter in it's entirety before it was removed. Here ya go…
The (now deleted) Open Letter:
This letter will be my only comment on the matter, as there are too many actually serious issues to be turning our attention to. But my reputation has been attacked and I felt one statement was necessary before I move on.
A couple months ago I was on the podcast Twisted Plot, a tiny operation, an effort of positivity from a fan of pop culture, life and reality TV.
As an editor I do my job in the background and I've never been asked to gush about it, so I had a great time talking about my job, filled with the banter that has now been taken out of context by the gossip rags. There were a handful of listens, and nothing more. Ten weeks later my second episode of the current season of Vanderpump Rules aired and the podcaster and I agreed to do a second podcast, but this time we had a goal: to make an answer to the conversation about a certain producer who had received an inappropriate amount of ire for his part on the show, and explain that production is a huge collaborative effort and that you cannot blame one person for the decisions that are made. 
Reality TV is made up of producers, yes. But that is a vague term. There are field producers who interact with the cast, story producers who are the first to watch and analyze footage, executive producers who make authoritative calls and network producers who have final say over everything. Never should one person take a hit for the whole show. 
Ironically, I am now the fall guy for a "problem" with the show. But no matter what my silly banter said on the podcast, I don't have the power to personally humiliate or ruin any cast member. I am an editor, a Creative, and only one of ten per season. I spend six months of the year arranging and rearranging footage in various ways, based on what higher-ups have requested. So to take the fall for my "misdeeds" of rearranging footage is almost laughable.
To the critics who have made it their mission to get me fired: you succeeded in your short-sighted mission and solved nothing. I've been removed from the show I love and while it is a heart-break for me, because I genuinely loved editing this show, it will not ruin me professionally nor will it change the editing of the show at all. The only thing that will change is that you will no longer have that specific "Bri" flair, which you surely never realized as such, before. But if you go back and watch the episodes I edited you will start to see my mark. Aside from that, whatever else you thought you were accomplishing by getting rid of me, you didn't.
To any cast members who wanted me out: I'm out! But right behind me is another editor who does the same kind of work as me. And the nine other fantastic and highly skilled editors who also took part in creating this past season, and who will continue to do their jobs. In addition the network and higher executives who actually made the calls that you may or may not be happy with remain absolutely the same. In other words, you have not changed the system. 
You, the rich and empowered celebrities, feeling threatened by me, a freelance worker with no union protections, have used your sway to "demote" me, but your problem is not and was not Me. Perhaps your problem is that you chose to be on reality tv and you did not know what goes into it. Now you know. But you didn't change a thing.
To my supporters: don't worry! I'm already working on another show, for another network. While I love Bravo shows and womens' programming in general (those emotional, comedic relational shows) I work in all genres. My colleagues have read my comments and shrugged their shoulders, because what I described in the podcast, and what has been labeled "unprofessional" and "a vendetta" (their words not mine) is actually my profession. It is the way I pitch myself in an interview – and the potential showrunner inevitably nods and smiles because that's what they are looking for in an editor. Showrunners want to hire someone who cares enough to find the little embarrassing moments, the funny looks, juxtapose the elements in a unique way to make their show watchable, laughable, tweetable, relatable and REAL. 
And those folks who have worked with me in the past are, frankly, psyched that I'm no longer working on Vanderpump Rules. For several years I've turned down job after job because I was devoted to Vanderpump Rules creatively and personally, and now I'm available to be booked. 
To my colleagues and supervisors at Vanderpump Rules: I am so sorry for the stress I caused on the show. My mistakes were out of love and at worst I thought I'd get a slap on the wrist. I respect you all and the work you are doing. But I didn't show you respect by going on a podcast and for that I humbly apologize. Our job is to remain unseen and I will attempt to embody that from now on. As the adage says, "the best edits are the ones you don't notice."
To Everyone: Someday you'll be watching a show, laughing at some little moment and you won't know that I actually edited that. You probably won't be waiting for the credits to see who edited it, because editors are the invisible laborers who make your tv hours fun. The cast is crucial to make a show what it is – because they are the ones who do and say all the funny things. But without editors a cast is just a bunch of youtube channels and instagram stories without outside perspective. Editors are crucial to storytelling, but through all this I've learned something else. 
People love stories, but they don't really want to know where their stories come from. I spoke too much by speaking at all. I didn't say anything untrue, or secretive. I was fired for saying anything at all. And because I'm a freelance worker with no union and no influencer power I am easily firable. I'm sure you can draw up the other scandals that have rocked this franchise and the others on the same network and the apology tours that followed. I wasn't given that option. 
Damn, I regret doing the interview, but not because it ruined my career (it didn't), but because getting fired broke my heart. I loved this show, I'm sad and devastated. But I'm also a professional, and I'm already hard at work editing your next favorite shows.
xo,
Bri Dellinger
Freelance Editor
The article I wrote last week:
Last week, I wrote a piece called 'The Emancipation of Scheana Shay.' This article was composed after the host of the Twisted Plot podcast, Evelyn Marley, removed the podcasts Bri appeared on.
Well, the podcasts were re-released and I listened to the first hour. (I'm still listening to the second half.) Here are my updated opinions, now that I've heard Bri interviewed for myself- rather than isolated clips and out-of-context quotes.
My updated opinion:
Listening to Bri's first full appearance on the Twisted Plot podcast made me adjust my opinion. I appreciated when Bri discussed the infamous 'editing snafu' that fans caught with the inconsistency with Ariana Madix's hair. In case you didn't catch it…
Bri detailed this 'pickup' in her interview on the Twisted Plot pod. She explained that it's not uncommon to shoot multiple times to get regular shots and wide shots. The host of the podcast, who noted that she has a background in production, agreed.
In this VPR scene, Ariana opens up to Lisa Vanderpump about her mental health struggles. Bri went on to say that the first shot of Ariana's convo with LVP needed to be altered due to the content that Ariana provided in the second shooting that was not conveyed the first time around.
The on-and-off SUR bartender elaborated while filming the 'wide shots' on her issues managing her mental health. The editing team felt this was an important side of Ariana that needed to be shared. As a VPR fan, I was glad to hear that was the reason for the inconsistencies.
In regards to Scheana, I feel that the masses (myself included) were too hard on the editor, in some regards. It was clear listening to the interview that many of the Scheana edits were in good fun, but not all of them…
I am consistent in my initial opinion that the Nicholai Schroeder edit is hella problematic. (Nicholai is Scheana's co-star, Stassi Schroeder's 14 year old brother.) "It was so funny," Bri detailed on the podcast. 'We were watching the scene and were like, "Okay, this is over the top, I realize that, but how can we resist?" … Yes, I set it to funny music and I added a funny [sound] bite, but she did that." The editor continued, "We asked her in the interview, 'How young would you go?' and we didn't tell her it was for the Nikolai scene, of course."
Well, Scheana joined Danny Pellegrino on his YouTube channel to share that the 'Scheananigans with Scheana Shay' podcast lost endorsement deals after the episode aired that her out to look like a child predator. Bri's blatant manipulation of Scheana affected her livelihood. Not cool.
There is a conversation point that wasn't picked up initially by the media, that I heard in the full re-released episode. Listen for yourself…
This is where Bri lost me, yet again. As a feminist, I celebrate women doing what they choose with their body and sexuality. Never forget, there is footage floating around of Scheana faking orgasms, courtesy of Scheana herself.
Prepare to cringe…
Bri wanted to make a 'Vanderporn page' using Scheana's moans along with other footage that the camera crew has captured over the years, including scenes of the SURver gyrating and making out with a female co-star. The higher ups at Bravo knew better than to allow that to make it to the screen, against Bri's wishes.
If Scheana wants to create or oversee that type of content, that's Scheana's choice- not a random editor on a reality show. Good call, Bravo!
For one, I'm glad that Bri was reprimanded, but firing her was extreme. I am not a believer in 'cancel culture' unless you're a rapist/murderer/etc. I think that people should have the space to learn and grow from their mistakes, but that's just me.
On another note, I hope the brands that cut Scheana from her endorsement deals reconsider not working with her, since she is absolutely NOT a child predator. Bri owned her truth in that edit, which is why I think she needs to take a deep look inside herself, especially since she referred to herself as a feminist multiple times in the podcast.
Want more of my hot take on this scandal?
I broke down the Bri Dellinger drama, the Southern Charm saga, and so much more on the On This Day Entertainment podcast. In case you'd like to listen…
Do you think Bri deserved to be fired? Sound off in the comments!
---