Vicki Gunvalson Proves Kelly Dodd Is Welcome At The Quiet Woman
The manager promised he only said what "was on the prompter" when he insulted Kelly on WWHL.
Staff August 6, 2023 11:58am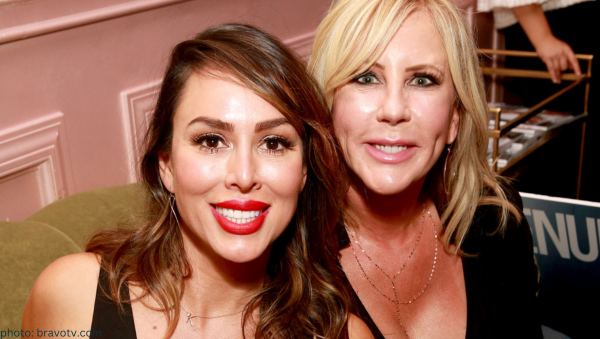 Real Housewives of Orange County's OG, Vicki Gunvalson set the record straight regarding Kelly Dodd getting 86'ed from The Quiet Woman restaurant.
During a night out with her amiga/RHOC co-star, Shannon Beador, Vicki recorded a video with The Quiet Woman's manager, Julius, who wanted to clear the air with the former Real Housewife.
"I'm here with Julius," began the Coto Insurance founder's video. She panned her camera to the restaurant's manager who was quick to defend himself.
"Hi, Kelly. It was on the prompter. I had no say."
Vicki jumped back in to add, "He didn't mean it."
"He loves you. He wants you to come back."
Julius told Kelly, "You're always welcome at the Quiet Woman. Who isn't?"
The camera shifted to Shannon Beador, who deadpanned, "They let me back in."
Vicki reminded Kelly, "We love you" to conclude her video.
View this post on Instagram
In case you missed it, Julius was a bartender on Watch What Happens Live.
Julius dished to Andy Cohen that Kelly was his least favorite customer from the show.
Kelly took to her Instagram to clap back.
"Shame on you Julius. I don't deserve to be disparaged in this way!! I've brought countless people to the restaurant over the years, and never asked for anything more than a table to sit down and eat and drink. I have great relationships with the staff, and have no idea why you'd say that about me. It's disheartening, disappointing, and unfair. It was never in the prompter LIAR! Yeah, but I guess you're entitled to your own opinion."
Bravoholics took to the comment section of @TheBravoChicks' Instagram page to share their opinions.
Andy hates Kelly and that's why it happened! He has his favorites…

See? This is why I am totally going off Bravo, they are manufacturing drama where there is none. They owe Kelly an apology

All the staff at quiet woman is always so nice and accommodating even though it's small and always crowded. He pulled gum off my shoe when I stepped on some under a table. He saw I was looking for something to wipe it and came over with a napkin and just handled it. Can't believe he said that about one of his regular customers! 😮😬

i'm so so glad that Vicki stood up for u. You're SO NOT LIKE THAT. jeesh

Prompter? He wasn't even looking into the camera when he said it. And why has no one else used that excuse? If I were Schwartz, I'd blame my whole last WWHL appearance on the prompter 😆

I like Kelly she has no boundaries and makes good tv but that's some slick shit they did with the prompter

That was soooo shitty of bravo !!!

I loved that the owner of Javier's jumped in on Kelly's post that she is always welcome! No one outside of the OC would know about Quiet Woman without Kelly. Big mistake! Huge!

lol this is just groveling people. he even laughs as soon as he says the excuse cmon
Do you believe Julius was reading a prompter when he threw shade at Kelly? Sound off below.
---