Everything We Know About Vanessa Hudgens' Unscripted Movie 'Dead Hot: Season Of The Witch' So Far
The project as being described as a cross between 'The Craft' and 'The Simple Life.'
Ashley Hoover Baker October 9, 2022 4:23pm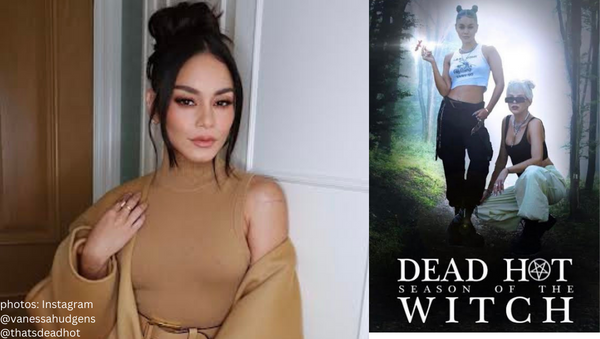 Witch, please:
Vanessa Hudgens and her bestie, GG Magree, teamed up to create a "feature-length unscripted film, 'Dead Hot: Season of the Witch.'"
According to reports from Variety, the project documents Vanessa and GG's eight-day journey in Salem, Massachusetts "as they set out to learn about witchcraft, ghost hunting and connecting with the spirit world."
Described as an "intimate journey into the supernatural realm" that serves as a "coming-of-age story that explores identity, feminine power and sisterhood," the 90-minute reality film is being compared to a hybrid of The Craft and The Simple Life.
"It's a lot about female empowerment," explained Julie Pizzi, president of Bunim-Murray Productions (the team behind MTV, E!, HBO, and Nickelodeon.) "It's so emotionally raw that it really created such a beautiful narrative."
Dead Hot's origin story:
Although the project was conceived as a ghost-hunting show, Vanessa and GG realized they wanted to take a more "spiritual" approach.
"As we got to know them, we realized that their curiosity in connecting with the spirit realm and paranormal and supernatural exploration was so much deeper than ghost hunting," continued Pizzi.
"It's a lot about self-love, and them finding their inner strength and power."
Personal history:
After years of being self-taught in the world of witchcraft, the actress and the musician realized they needed proper mentorship and training.
"They've been doing little spells since they were kids, and they were just really interested in that world."
On an episode of The Kelly Clarkson Show earlier this year, Vanessa divulged the paranormal experiences she's had since she was a child, even revealing she talks to ghosts.
"I've accepted the fact that I see things and I hear things," she told the first-ever winner of American Idol. "The unknown is scary, but I recently was like, 'No, this is a gift and something that I have the ability to do, so I'm going to lean into it.'"
View this post on Instagram
Dead Hot: Season of the Witch is currently in post-production, so stay tuned for updates!
Are you excited about Vanessa and GG's supernatural reality movie, or do you skip the spooky stuff? Sound off below.
---