The Real Housewives of American Idol
A ranking of all the ladies
Emily Bertha February 27, 2018 11:26am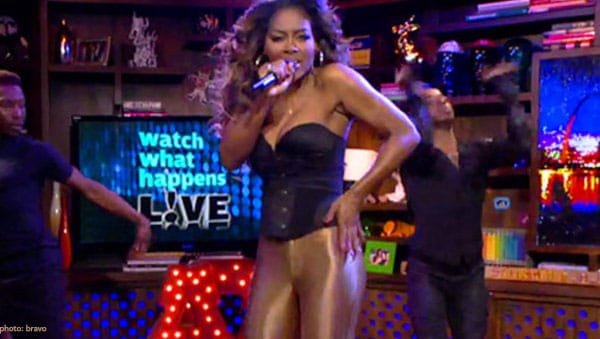 While The Real Housewives are best known for being reality stars, they possess talents beyond table flipping and artificial leg throwing!  We've gotten a taste of many of the ladies' singing talent on episodes before, and now is the time to rank the women's singing abilities. 
Read below for a ranking of the top eight real housewives singers (and I'm using that last term loosely).
Just note that this list doesn't include every housewife who has ever belted out a tune (sorry Sonja Morgan, but your one time holiday Caburlesque left me with visions of bad teeth and worse puns dancing in my head).
Although Kenya definitely has fun performing "Gone with the Wind Fabulous", Mrs. Moore does not leave me wanting more. While her song pokes fun at herself and is undeniably catchy, the lyrics are too repetitive and her singing is more like slow talking.

While the deeply emotional music video is very well done, the song lyrics and singing itself just sounds so average and unoriginal. However, I certainly applaud Porsha for opening up about the abuse she suffered at the hands of her ex husband. Hopefully this song can inspire others who were in her situation.

Who could forget Gretchen's proposal song? It's basically the song equivalent of cringeworthy PDA after three Skinnygirl cocktails in. Gretchen released a few other mostly love songs that lack much originality, but her voice isn't too bad.

Gorga got moves, I'll give her that. Her singing isn't awful and while her stage presence is hot, she's no Erika Jayne. Melissa's claim to musical fame was inspired by her husband and led to two singles, "I Just Wanna" and "On Display." But with lyrics like, "Mama told me if I had nothing nice to say then 'shhh!'", she may be better suited towards writing a cliche parenting book.

I know, I know: any member of Xscape and co-writer of the ultimate karaoke anthem "No Scrubs" should be on the top of the list right? Kandi is indubitably the most musically talented housewife, and she arguably has the best voice of all the housewives. While I adore her soulful songs like "Let Them Love", a lot of her music makes me want to cuddle up with a bottle of wine and cry over my ex. Her music isn't exactly as fun as some of the other ladies'.

The day Kim Zolciak shows up to an event sans red solo cup filled with wine will be the day I stop listening to "Tardy for the Party." It's so bad, yet so good. And "Google Me"? It sounds like a kindergarten teacher talking to their class about how to use the internet; there's very little singing involved. And talk about repetition…We all know how to spell now, thanks. But the ego of this woman?! I love it.
Perhaps one of the most unlikely housewives to make the list, the former countess sings about class (shocking) and the rules of the girl code in some of her hits. LuAnn may not have the best singing voice, but her songs are fun instruction manuals to a rich, happy la vie. 

#1 Erika Girardi (alter ego: Erika Jayne) 
This woman is truly iconic. Who among us hasn't jammed out to one of her hit tracks like "XXPEN$IVE and "PAINKILLR"? Personally, "How Many F**ks?" is the song that immediately starts playing in my head when Chipotle workers inform me that guac is gonna cost extra. Erika's performances are entertaining, her voice is like a party goddess, and her costumes are works of art.

Ironically enough, Ramona Singer doesn't even have a single song to her name…seems like a missed opportunity to me.
Do you agree with these picks? Which singing housewife do you think deserves the #1 spot on the list? Comment below!
---