Too Hot To Handle's Emily Miller And Cam Holmes Are Living Together
They've even met all of each other's friends and family members.
Ashley Hoover Baker July 5, 2021 2:06pm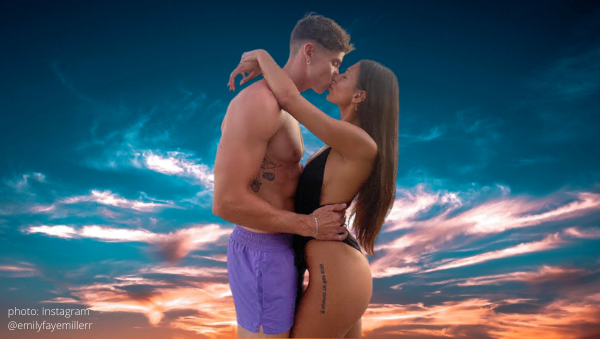 Gotta give credit to the cone…
Lana, the 'the virtual assistant,' from Netflix's Too Hot To Handle worked her magic with Emily Miller and Cam Holmes.
According to The Sun, "the loved-up pair say they moved in together in February – less than two months after filming the show in December – and have been 'inseparable' ever since."
"We are very much in a relationship. We're actually in the same house right now, just different rooms," Emily spilled to US Weekly.
"We're living at my mom's house. We are looking to move out together. That is the next step."
Making it Insta official:
Emily captioned the couple's steamy photo, "Lucky is to have you ❤️."
View this post on Instagram
As for Cam, he reminded his followers where it all began. "And it all started with a crab grab 🦀💛."
View this post on Instagram
Cam's commentary:
"We haven't spent much time away from each other at all," Cam confessed to The Sun. "Me and Em [sic] have been very much ourselves on that show. We both love each other to bits and she is my best friend."
"It's just nice to come out (of the THTH villa) and be a normal couple," added the self-proclaimed 'sexy nerd' from South Wales.
Moving forward as 'Camily:'
The lovebirds, who created their celebrity portmanteu- 'Camily,' have already discussed their next big steps together.
"We definitely do want marriage and kids. If we have a girl we're going to call her Lana, obviously."
Growth:
Now that the couple doesn't have to answer to the 'Alexa' type device, Emily and Cam's attitude toward sex has evolved.
"I appreciate sex a lot more since filming the show." The brunette bombshell continued, "I've always been a strong believer in that women should love sex, even prior to the show."
Cam added, "Before I went on the show it was just like sex was sex, that's it. But it sounds so cringey [sic] to say but relationship sex is so different. There a lot more emotions involved, so my philosophy on sex has definitley [sic] changed."
"Once we left -(the villa) it was so nice to actually be affectionate towards each other without having to wait for a robot's approval."
Who do you think deserved to win season 2 of Too Hot To Handle, or were you happy with the winner? Sound off in the comments!
---