Update- Tiger King's Joe Exotic Is Officially Divorced From Dillon Passage
Both parties are entitled to whatever separate property they have.
Ashley Hoover Baker January 3, 2023 8:39am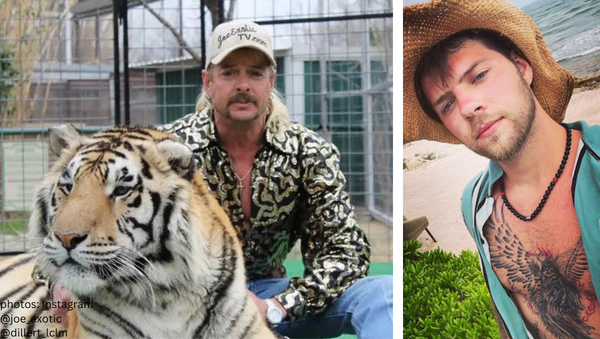 Updated post: 1/3/2023 @8:39
Happy New Year to the now-SINGLE stars of Netflix's Tiger King, Joe Exotic and Dillon Passage!
According to reports from TMZ, the divorce was "finalized Tuesday in Santa Rosa County, FL … with a judge signing off on each dude going off into the world as unattached and unhitched."
Since both Joe and Dillon have dated since their separation, who do you think will be the first to say 'I Do' again? Drop names in the comments.
---
Original post: 12/28/2022 @6:09
Just when you successfully removed Netflix's 2020 smash, Tiger King, from your mind, Joe Exotic and Dillon Passage are back in the news.
According to documents obtained by TMZ,  Joe Exotic and Dillon Passage will be divorced as soon as the judge finalizes the paperwork. Since there are "no joint assets or marital property between them," both parties are entitled to keep whatever separate property they have.
A clean split:
Joe and Dillon "waived the right to any alimony, and there's a nondisparagement agreement,"  so you won't hear either bad-mouthing the other in the media.Since Joe is going back to his family name of Maldonado, he shouldn't have a problem keeping the name Dillon Passage from his lips.
Moving on:
While Joe stays busy with prison romances, Dillon's lawyer dished that he "is very happy to close this chapter of his life, move on and leave Tiger King behind."
That should make this next part easy …
According to the legal docs, Dillon must surrender "any right to distribute, profit from, sell, transfer or use "Joe Exotic, Tiger King, and "Joe Exotic For President" merch.
Who do you think will be the first to remarry? Drop your prediction off below.
---