EXCLUSIVE INTERVIEW With Shahs Of Sunset's Ali Ashouri
Ali dishes on what kind of person Reza Farahan really is, reads the XXX texts he received from Adam Neely, and more!
Ashley Hoover Baker August 5, 2020 1:15pm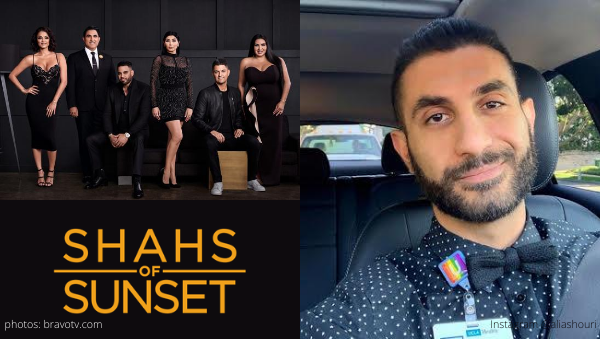 "You're welcome! Season 8 was all me." – Ali Ashouri
Shahs of Sunset's infamous 'friend of' returned to the On This Day Entertainment podcast to break down what's happened since his first appearance on the OTDE pod right after the bomb dropped by Reza Farahan alleging Mercedes 'MJ' Javid's uterus exploded as a result of having ten abortions.
If you missed our interview from March, catch up here! (Warning- it's NSFW!)
Why weren't you invited to the Shahs reunion?
Ali explained it was a 'power play' made by Reza ('RAT'za, as Ali calls him). "He won't film if I'm there." Though Bravo made Ali sign a contract with the network, he was not financially compensated for his role on the show. He continued, " I don't know why I wasn't there. I reached out to the producers. I told them I want to be there and I got no response back."
What kind of person is Reza?
Ali detailed how Reza is one of those people who likes to show that he is superior to others. "He makes you feel like you're beneath him. It's unfortunate- it's SO unfortunate to see that he is the face of Bravo for this show and the network unfortunately gives people like him a platform that they don't deserve."
He noted that Reza does NOT represent him as a Persian, nor as a gay man. "He is scum. He is garbage. He's the lowest of the low. If you treat people anything less than with respect, you deserve to be nothing but scum and garbage and left in the dumpster."
"He is so vile, so disgusting. He treats people so poorly." That's when Ali told a story about a 2017 trip to Palm Springs for Adam's birthday. You have to hear the way the front desk clerk was treated for yourself! Not a good look….
How much does Reza dictate what makes it to the screen?
The former friend of the main cast detailed that once Reza proclaimed he would not film with Ali, is when "they pulled me out and that's why I think this season is poorly produced." Ali also referred to the two-part reunion as a poorly produced 'sham' before adding that he doesn't think any of it was real.
Explain your court date with Reza:
Reza and Ali met in a Los Angeles court regarding the case Ali filed against Reza for the televised assault, as well as threats Reza made against Ali on social media.
"When we were in court, his lawyer basically argued that this is a reality show and it's scripted and he knew he was going to come and assault me and knew he was going to have some sort of altercation with me, the producers encouraged it." Unfortunately for Ali (who did not have a lawyer,) the judge dismissed Ali's case against Reza.
In case you want more details on why Ali wanted a restraining order, here is an article I wrote in April.
Was the '10 abortions' feud staged?
After reading what Reza said about the show being fake while he was in court, I wondered if the season's peak scandal was indeed, real.
"NO! Everything that you see, all of the interactions this season, all the fighting was legit. Those were not planned. It was a catalyst of what happened."
"What I said about his [Reza's] husband starting everything and then it turned into him posting MJ's medical information on Instagram."
Ali continued that's when Tommy Feight, MJ's husband, found out what Reza did, then vandalized Reza and his husband, Adam Neely's backyard. Reza had Tommy arrested, pressed charges against him, and got a restraining order.
So is the show real or is it fake?
Ali explained that Reza only claims the show is 'fake' when it benefits him- like in court. He feels the rest is real, for the most part. (There are links to watch/listen below!)
Additional topics include:
Shahs' main story line until Naked Jenga
Pick-up scenes
Backstories on each cast member
Destiney Rose's hook up(s)
Destiney and MJ's roles in the Naked Jenga scandal
Did I mention that ALI READS THE XXX TEXT MESSAGES ADAM SENT ?!?!
Listen/watch to the interview with Ali Ashouri for yourself!
Here is Ali Ashouri's triumphant return to the On This Day Entertainment podcast! In case you'd rather watch the interview, here ya go!
Do you agree with Ali and I that the reunion scene when we see Reza and MJ start to rebuild their friendship seemed fake? Drop your opinion off in the comments!
---