RPDR's Dahlia Sin Opens Up About Being First Eliminated
"I was going to scream."
Ashley Hoover Baker March 17, 2020 10:28am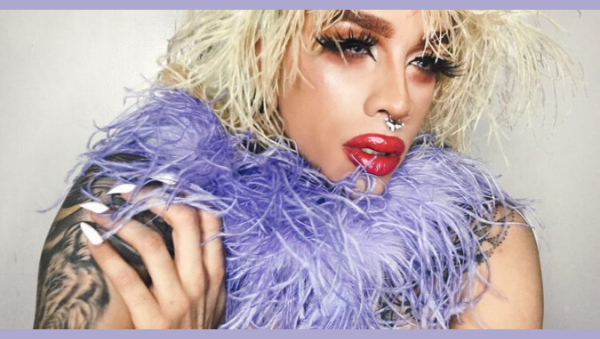 RuPaul's Drag Race star, Dahlia Sin, opens up about being the first season 12 dragtestant eliminated. After her dramatic exit, she told Entertainment Weekly, "I was going to scream."
Sure, Dahlia had a short-lived stint on RPDR, but that doesn't mean she didn't leave a lasting impression. RuPaul eliminated her from the competition following mediocre performances of both the sketch and the lip-sync-for-your-life against Nicky Doll. Never forget how Dahlia stormed past her fellow dragtestants as she exploded backstage after feeling she was robbed.
Here are some highlights from Dahlia's interview with EW…
What did Aja (Dahlia's drag mother) say when she learned Dahlia was first eliminated?
Dahlia explained to EW that Aja was shook. "How the hell is that even possible?'" She was probably feeling the same way I felt, she was like, 'Girl, it's ok, you'll still be liked, you have a good presence about you and your personality is amazing. People will love you no matter what!' My whole entire house was gagged."
Is Dahlia familiar with the work of Bob Fosse since her time on RPDR?
The NY Queen laughed, "No, I don't.  I mean, I knew what, like, Chicago was, I just didn't know who he, she, they, or even it, was! I just thought it was a type of dance."
Did knowing that Miss Vanjie and Soju were also first eliminated bring Dahlia any comfort since they are so successful in the drag world?
"I was depressed for a good two months, but at least I got to show seven looks when, normally, people who go home first only get to show what they walk in with. I lasted until the third episode and I got to show more of myself than most people who leave first!"
Did Dahlia plan for a legendary exit?
"I wasn't even thinking I was going home first. I was gagged that I was even in the bottom, especially since I thought I did really well in the first episode. I know my acting isn't the best, but my runway should've saved me. Crystal [Methyd] was read for filth for her look and her performance…. I didn't think there was something to live up to because I didn't think I was going home, but I think my exit was iconic enough!"
What was going through Dahlia's head when she was told to sashay away?
"Basically, I'm not too happy with what they said about me being eliminated, so I was kind of dramatic with my exit…. I was going to scream as soon as RuPaul said it…. the very next thing was just black, I wasn't even thinking about what I was doing. I didn't even care!"
To read Dahlia Sin's full interview with EW, including deets on the challenge that involved the now-iconic cruciferous crown, how coronavirus is affecting the NYC drag scene, and her reaction to rapper Doja Cat attending one of her gigs, voila!
Dahlia Sin didn't have the only dramatic exit from season 12 RPDR; Sherry Pie wasn't eliminated for a lackluster performance, but was disqualified. Get the full story here.
If you need more Drag Race in your life, you have to check out the Alright Mary podcast. The hosts hilariously break down all things in the world of Mama Ru and beyond! Here is the most recent episode.
Did you think Dahlia deserved to sashay away first? Spill your tea in the comments!
---