RuPaul's Drag Race Dragtestant Sherry Pie Apologizes For Catfishing
Multiple actors submitted embarrassing audition tapes of themselves saying and doing degrading things to Joey Gugliemelli [Sherry's boy name].
Ashley Hoover Baker March 6, 2020 8:09am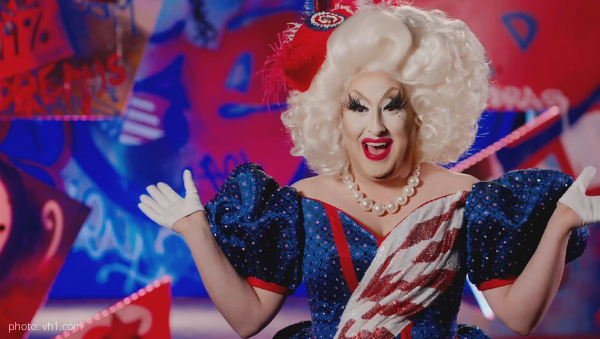 RuPaul's Drag Race 'dragtestant,' Sherry Pie, apologized for catfishing multiple actors while posing as a casting director. The actors submitted embarrassing audition tapes of themselves saying and doing degrading things to Joey Gugliemelli [Sherry's boy name]. According to BuzzFeedNews, "One of the young men said he even agreed to masturbate on camera as part of the audition process."
David Newman comes forward:
The season 12 competitor allegedly deceived his former classmates at SUNY Cortland in New York, as well as performers he worked with in a Nebraska theater company. "I just felt really stupid. I felt really dumb," explained David, who filmed scenes in 2015 wearing a tank top and shorts for Joey for a fake musical version of A Nightmare Before Christmas that he was told Tim Burton was affiliated with.
David is not standing by as Joey receives national acclaim as Sherry Pie. "Everyone does bad stuff but he never apologized." He continued, "He has a national audience watching him now and people have to know what he did. He did it to a lot of people."
Neither Joey nor representatives for VH1 responded to the multiple emails, tweets, phone calls, and text messages about this breaking story. One minute before publication on Thursday evening, Sherry Pie posted to Facebook:
Sadly David was not Sherry's only victim…
Ben Shimkus shares his truth:
The 25 year old actor "came to communicate for several weeks via email in 2015 with a woman he believed to be called Allison Mossie, using the address [email protected], who was said to be casting for a new play at the prestigious Playwrights Horizons in New York City. Shimkus said he was referred to Mossie by another Cortland student who had been referred to her for a role in the supposed musical of A Nightmare Before Christmas by Gugliemelli. Neither ever met or spoke with her in person," according to Buzz Feed.
In a collection of emails provided to BuzzFeed by Ben, he and 'Mossie' discuss in great detail a character in a supposed upcoming play called Bulk. It was said to center around a man named Jeff taking steroids to put on muscle. Ben was told he would wear a series of bodysuits as the character got bigger. He was repeatedly assured producers were interested in him and that he would be paid $900 per week and put up in housing in New York City if he landed the part.
It gets creepier. Ben was sent dozens of questions to answer over a series of emails as part of tests to see whether he understood the character. "What Would you feel like if you had that size? What would you like? What wouldn't you like? Are any Jeff tendencies or ideas coming to your mind?" read one email. "Why do you think Jeff stops using deodorant in the show? Would you enjoy seeing and hearing the seams of your clothes stretch and even rip as you grow?" read another.
It didn't stop there…
Josh Lillyman opens up about the scandal:
The 23-year-old Australian-born actor met Joey when they were cast in productions of Hairspray and The Little Mermaid. "He sort of groomed me, I would say," he told BuzzFeed News. Josh said Joey deceived him when he acted as an "auxiliary casting agent" for a woman in New York for an upcoming HBO show. The title of the project was Bulk. "If I was a little more educated I would have been able to avoid this but this was a younger version of myself."
To learn more details and read the other victim's stories, here is the full article.
The aftermath:
Sherry Pie's Facebook followers are not here for the abuse. "I can't believe we're gonna have to watch you EVERY SINGLE WEEK on drag race 🙄🙄 the season has a very exiting cast, but now i really hope you lose the competition, you don't deserve that platform!" Another wrote, "Gurl bye! You only apologize because you got EXPOSED!! If the rumors are true and you're in the top 4 I hope you don't win."
"This is crap. You are not sorry. If you were sorry you wouldn't have done this in the first place. Instead of writing this fake news online you should be saying this to your therapist. Get help." Another follower brought VH1 into the mix. "You should be absolutely ASHAMED of yourself and VH1 should pull this season from the air IMMEDIATELY. You've made your bed and you need to be held ACCOUNTABLE. To use your ALLEGED mental health struggle as an excuse for your disgusting and PREDATORY actions completely takes away the credibility and validity of those of us who TRULY suffer and do NOT use it as a means to PREY on others. I was always right about you."
If you love all things RPDR, you should check out the Alright Mary podcast. Here is the most recent episode.
Do you think Sherry Pie should be eliminated from the competition as a result of these behaviors? Sound off in the comments!
---