The Black Socialites' Khyle Paylor Spills The Tea From Behind The Scenes Of The Real Housewives Of Potomac
Get exclusive insight into Charrisse's return, Katie's departure, the Monique/Trainer rumor, and hear what Karen Huger is like in person.
Ashley Hoover Baker August 31, 2020 8:07am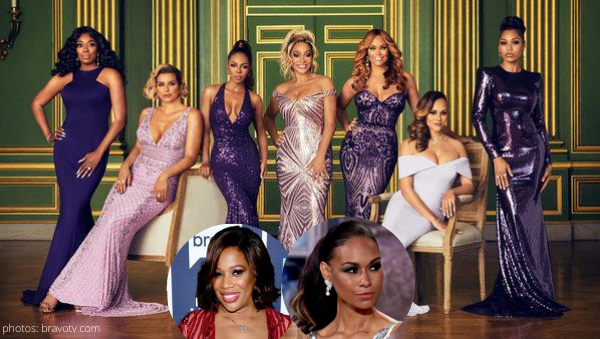 You're going to want to sit down for this one….
Khyle Paylor from Instagram's @theblacksocialites joined me, Ashley Hoover Baker from On This Day Entertainment to break down some behind-the-scenes drama from the Real Housewives of Potomac.
Revelations are made. Facts are dropped. Please note that everything here is courtesy of the DMV's finest socialite, Khyle Paylor, and is alleged.
In case you missed it, Khyle is the blogger that Candiace Dillard Bassett tried to 'drag' by body shaming, mocking his health struggles, even saying she wished he would die, only to make herself even more hated by RHOP fans.
Let's get started…
Matt 'Karen's assistant' Byars:
Since RHOP fans were so upset that Matt Byars' bottom third description read 'Karen't assistant' rather than 'Karen's everything,' I felt compelled to ask Khyle what he thought should be inside of Matt's quotes.
Matt, 'Karen's assistant,' should be called "Talent manager for Bravo. That's his profession. He's a talent manager. That's why he's pictured with so many housewives because he is a talent manager and I believe the firm he works for is contracts with Bravo." Khyle included he wasn't 100% sure that Matt works for Bravo, but he is sure he is a talent manager.
Khyle continued with some insider scoop, "Matt, his relationship with Karen [Huger], is a little bit different because he went to high school with her son."
** I did a little digging and learned that Matt is a 'talent manager' for Prince Marketing Group. Though I'm unsure if PMG works directly with Bravo, but there are a few Bravolebrities featured on Prince Marketing Group's website, including RHOBH's Denise Richards, RHONY's Ramona Singer, RHONJ's Melissa Gorga. The Grande Dame was not featured on the site.**
I was the only one geeking-out for Wendy, as Kyle channeled his inner Grande Dame as he shared his opinion of the political commentator and professor. "I'm not really that impressed."
The blogger continued, "I am proud that we have an African American woman on television that has such degrees and is all about 'black girl magic' and all of that, but it just seems like she's very thirsty and she's jumping in the mix, in my opinion, more as a fan than as a woman holding her own."
Damn. Dr. Wendy got taken to the library- that was a READ.
Khyle and I broke down the relatable AF moment from Wendy and Robyn's playdate with their sons when Robyn broke out margaritas at the park. (Been there, girl.)
After the grown-ups began to indulge in adult beverages, the ice cream truck approached. Khyle legit made me cry from laughing so hard when he threw shade at Robyn, the ice cream truck baller.
Get a chuckle for yourself!
Karen Huger:
Khyle and I agreed that Karen's style is timeless, as evidenced by the most Grande confessional lewk of any HW franchise ever, imho. Sink your teeth into this….
F-L-A-W-L-E-S-S.
@TheBlackSocialites didn't only comment on Karen's fashion, he also dished on her character.
"One thing about Karen- she doesn't disappoint in person. Like, if you were to meet Karen or see her out and about, or at an event or something, Karen gives exactly what you'd expect from her in person. She's very sweet, kind, witty, funny. She gives you all of that in a few quick seconds. She's really good at that."
Regarding RHOP's freshman season:
Khyle explained that the first season of RHOP was not intended to be a housewives franchise.
"It was supposed to be a show about black women living in gated areas that was big on etiquette and basically just centering around Charrisse Jordan." Khyle detailed, "So, if you notice, in season one everything big that happens centers around her. Everyone was saying how they were friends with Charrisse. She was the nucleus of the situation, but in real life, Karen and Charrisse really were not friends."
"Ashley [Darby] was not supposed to be a housewife. She was actually a friend of the show because if you note, Ashley lives in the Virginia area, not Potomac. So it was supposed to be this Virginia area girl coming into the scene."
Khyle continued that Brynee Baylor was supposed to be a full-time season one Housewife, but when she "had some legal issues and Bravo didn't want to go that route with another Housewife caught up in legal drama."
Why didn't Katie Rost return as a full-time Housewife?
"Katie quit during the filming of season two."
Khyle elaborated, "It was just like you see Katie one episode in season two, but she had been filming into season two. But some things behind the scenes, and production got messy, and Katie walked away. So they decided to edit her out of all of the scenes she shot but they had to keep her at that party scene because it was her party where Monique was introduced."
Monique Samuels:
"I met Monique at the season premiere party when she first joined the show and she's been the same Monique ever since. She's real. She doesn't get caught up in the BS that comes with being a Bravolebrity. She's a real person and Monique has been a great supporter and she's just a really good person."
About the rumor of Mo and her trainer:
"First off, this rumor has been going around for about two years. I've spoken with Monique about this rumor several times and Monique did not have any intentions of ever addressing this rumor. She never wanted to speak about it. She never wanted to give that situation any life, but I'm going to tell you what happened."
"Going into around the third season reunion going into filming the forth season, of course. Her friend, Gigi, who you see on season two and part of season three, they fell out. Gigi had reached out to Candiace [Dillard Bassett] and Charrisse to tell them that rumor."
"Then I also was told that she [Mo] called several members of production allegedly. Bravo did not 'ok' that to be discussed on camera. That topic was 'blocked' from the discussion.
Why was Charrisse involved?
"Charrisse thought that she was going to be a friend of the show season four with pay, the way she was for season three. When they went to do the contracts moving into season four, at the last moment, they told her she could be a friend of the show, but she would not receive a salary. So, because of that, she was butt hurt.
She [Charrisse] had just bought an Aston Martin and all this stuff to film but she did not want to work for free. That's why she didn't go to Candiace's wedding because Candiace's wedding was one of the first all cast events of season four. She was scheduled to go but did not go because she was not being paid. That's the reality as to why Miss Jordan did not show up to Candiace's wedding."
"At that time, I was working for Charrisse. Robyn [Dixon] and Gizelle [Bryant] reached out to her several times during the filming of the forth season to make a guest appearance to come on and discuss that rumor. They needed Charrisse to do it because they couldn't talk about it because they were under contract and it had not been approved by Bravo to talk about. So, they tried to get Charrisse to do it. She was just a walk on, you know, she can say anything she wants because she has no contractual obligation to Bravo."
"Charrisse did not want to film because she was in her feelings about them not paying her to be a friend, so I guess when season four came out she got in her feelings even more because now the show that she helped create was on air and she was not part of it. Charrisse helped cast Potomac- it was her show. Now the show's sailing on without her."
How Charrisse ended up on RHOP's 5th season:
"When they got ready to start doing season five, she reached back out to Bravo and was like, 'Look. I'm going to film, goddammit. Let me do something."
Bravo told her if she wanted to return, she'd have to create a "teaser, almost like an audition as to what she would bring to season five and what her storyline and everything would be. I know because Charrisse, I went to her house that day, and it was like the end of August. By the end of September, I filmed the reel with her that she sent to production. In that reel, she said she wanted to bring the Monique rumor, along with her unfinished business with Gizelle, and some other things. She was coming back with a vengeance."
"A few days later, it was Candiace's diamonds and dinner party which is where she went. She called me that Monday morning and told me, 'Oh my god- that party was horrible.' She told me that she was scared it was going to look like she was chasing Monique around the party to talk to her because that's what her mission was that night- to start the conversation, the dialogue for Monique. Monique was ghosting her all night long. So, every time she came up to Monique, Monique walked away or changed the subject or go somewhere else. Apparently, that happened several times throughout the night, so she was worried they would want to play her to make her look like 'Oh, she's thirsty. She's trying to chase Monique down."
"Then she [Charrisse] told me that Gizelle told her that Monique and Karen called production and threatened production that if they were bringing Charrisse back, that they would want to walk."
"The disdain for Charrisse is strong, and with good reason- she's a horrible person."
Daaaammmmmmnnnnnnn.
Want more of this hot gossip?
I can't say I blame you! This was only a small fraction of the tea Khyle spilled with me via Instagram Live. Thanks to the technology wiz that helped me and my octogenarian-like-technological skills get the FULL chat uploaded to YouTube. Watch (or listen like a podcast) here!
Make sure to subscribe to the On This Day Entertainment podcast so you don't miss any of your favorite Bravolebrity, reality tv, and celebrity gossip.
Do you think the ladies' shady plan of spreading rumors of Mo and her trainer will end up backfiring on them? Drop your opinion off in the comments!
---