The Blogger RHOP's Candiace Dillard Bassett Wished Death On Passed Away
Rest In Peace Khyle Paylor from @The BlackSocialites.
Ashley Hoover Baker November 5, 2020 11:50am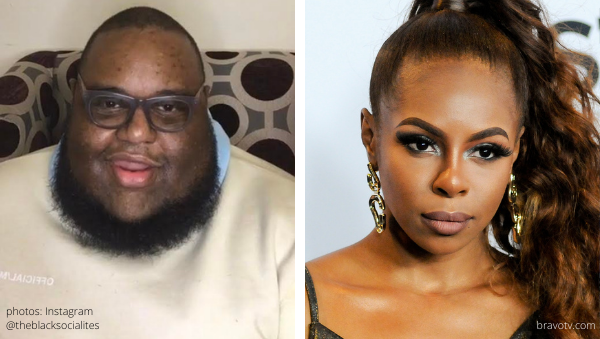 Khyle Paylor, the popular blogger from the Instagram account @TheBlackSocialites, passed away. Not only was Khy the king of dishing hot gossip and throwing playful shade, he was kind, hilarious, and will be missed by all that knew him.
Well, maybe not everyone…
Controversial Real Housewives of Potomac star, Candiace Dillard Bassett, was dragged earlier this year after wishing death on Khy. The has-been pageant girl took to her Instagram live to berate and belittle the blogger.
The therapist's daughter called Khy an "obese piece of sh*t who needs to drop dead." She added that the since-passed online personality "waits with short bated breath" to make money (which "contributes to his obesity") off "spreading lies about me and my cast."
RHOP fans called Candiace 'grotesquely fatphobic,' a 'horrible woman,' and 'so gross.'
In case you missed Candiace's hateful rant:
This isn't the only time Candiace's sharp tongue has gotten her in trouble:
The newlywed's co-star, Monique Samuels, LITERALLY dragged Candiace after getting verbally provoked. If you're watching Bravo's most underrated Real Housewives franchise, you know what went down in the barn at Gizelle Bryant's literary award celebration. In case you missed this 'boots on the ground' coverage from the physical fight…
Love RHOP and want some behind the scenes tea?
Khy lived in the DMV area and had tons of insight into the happenings on the show- and was friends with several of the ladies! In fact, he was involved in some of the season 5 drama that we can look forward to watch later this season. (BTW- the drama featured on the show doesn't involve this scandal with Candiace!)
How do I know this hot goss? Khy, of course!
Khyle joined me on an Instagram live to talk all things RHOP. You can watch Khyle dish on the origin story of the show, what Karen Huger is really like, his experience working for Charrisse Jackson-Jordan, the Monique/personal trainer affair rumors and so much more!
Do you think Candiace goes too far when she feels attacked? Drop your opinion off in the comments!
---