RHOC Alumni Meghan King Edmonds Treats Herself To Diamond Ring For Valentine's Day
Ashley Hoover Baker February 14, 2020 2:05pm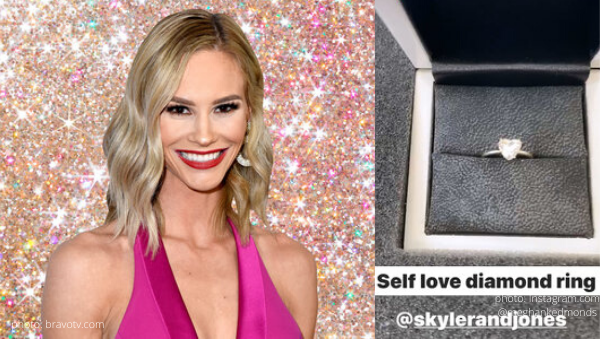 Real Housewives of Orange County alumni, Meghan King Edmonds, is living her best single life. The mom of three treated herself to a diamond ring for Valentine's Day. "Surprise! My ring is here… my self love heart ring," she exclaimed. This is Meghan's first Valentine's Day as a single mom, and she is doing it her way.
According to BravoTV.com, "On February 4, Meghan took to Instagram to show a few options that she was considering for her luxe love buy. Among the possible new acquisitions were a pair of diamond studs, a star-shaped ring, a chic diamond tennis bracelet, and a heart-shaped diamond pinky ring. Choices… choices. Well, now we finally know which piece of 'self love jewelry' Meghan landed on for her solo Valentine's day!"
Meghan went on the 'gram to flaunt her new gem to her followers via her story. Here is a screen grab of the three slides she posted.
View this post on Instagram
The former housewife's was changed upon the revelation of her ex, Jim Edmonds, having an 'inappropriate relationship' with the 'Baseball Madame.' If that wasn't enough torture for Jim to put Meghan through, don't forget the alleged affair between the former baseball player and the then-couple's nanny.
Did you think I was done? I have to do my due diligence and remind you of Sneaky Jim's most recent scandal. Jim and MKE had a threesome when they were married. Jim, in true Jim form, he threw his baby mama under the bus when he went on the record stating Meghan was talking about the sex-capade for attention. In case you missed it…
Considering all of the terrible things Jim has done to his family that I just outlined, the worst, for me, is when he called the cops on MKE. I detailed the saga on an episode of the On This Day Entertainment podcast.
Have you ever splurged on a gift for yourself on Valentine's Day? What did you treat yourself to? Sound off in the comments!
---