RHOC Alum Braunwyn Windham-Burke Filed For Divorce After Sean Burke Allegedly "Emptied" Their Joint Bank Accounts
"I had a pretty cushy thing going and now it's not. My life is hard."
Ashley Hoover Baker March 21, 2023 8:01am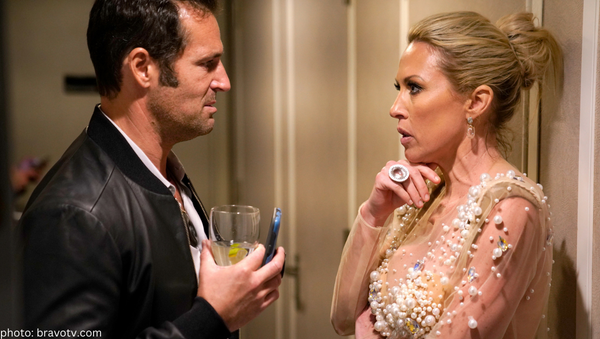 Former Real Housewives of Orange County star, Braunwyn Windham-Burke, filed for divorce from Sean Burke after the father of seven allegedly cleaned out their joint bank accounts.
"Sean had emptied out our joint bank accounts unbeknownst to me."
"Literally, one day I woke up and I had no access to any of my cards or any money. And that was why I filed for divorce."
In an interview with Page Six, the RHOC alum explained she chose to leave her marriage due to financial security. "It's the reason I did file for divorce. When you're still legally married, there's not a lot to protect you."
Braunwyn was forced to rely on her parents for "basic living expenses" since Sean left her "unable to provide" for their kids.
Sean "sends very little," alleged Braunwyn before stating, "I have five kids still at home that I'm taking care of and he doesn't send enough to cover groceries."
"He'll be like, 'If they need food, I'll go get it.' Or, 'If you need this, you can leave and I'll do it.' … For 28 years, he was completely in control of everything. That was 100 percent him and I allowed that."
Although times are tough for Braunwyn at the moment, she is confident Sean will be the one left hurting in the long run.
"I think once I'm in control of my own finances, I think he's scared that he's going to lose me. Not his romantic partner, that he's done with — but as that person. It's almost like he'd rather have me around asking [for money] — or in some cases, I've been begging for money — than to not have me at all."
"I had a pretty cushy thing going and now it's not. My life is hard."
Although Braunwyn alleged her estranged husband "stopped providing" financial support to his kids, Sean assured Page Six "any funds that were moved were used to pay family bills."
Braunwyn and Sean hope their divorce is finalized "soon," but "a legal dissolution is incumbent on agreements reached over custody and spousal support." They better start seeing eye to eye sooner than later if they want this to end quickly!
Did you think money would be the straw that broke the camel's back in this marriage? Drop your opinion off below.
---