RHOBH's Erika Jayne Claps Back At $3 Million Lawsuit
Erika and her husband, Thomas Girardi, call the suit a 'publicity stunt.'
Ashley Hoover Baker February 4, 2020 10:18am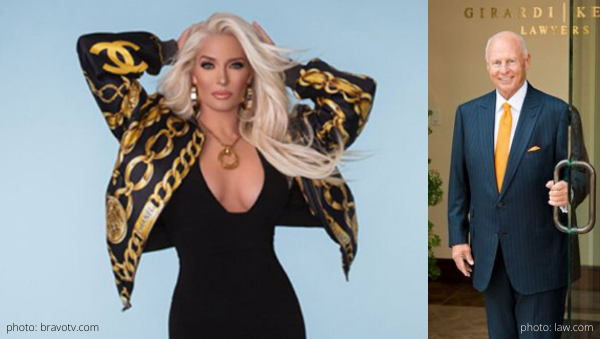 It's expensive to be Erika Jayne!
Real Housewives of Beverly Hills star, Erika Jayne, claps back at a $3 million lawsuit over an unpaid loan. Erika and her husband, Thomas Girardi, call the suit a 'publicity stunt.'
The lawsuit…
The Blast reported, "Erika and her husband Thomas Girardi are firing back at allegations they screwed over a lender over a $5 million loan. The couple are being sued by a lender named Stillwell Madison, who accuses them of failing to pay back the money and instead funding their lavish lifestyles."
The clap back…
Tom, a  high-powered attorney, and his Broadway star Mrs. went on the record stating, "The current action was filed as a publicity stunt." The couple added, "Plaintiff filed in federal court using such highly charged language as "lavish lifestyle" and "glamorous public image" with the goal to try to use the Court system as a publicity campaign."
The couple is demanding the lawsuit be moved to arbitration, and out of the public eye. The RHOBH star and her hubby claim the contract with the lender states all disputes will be handled in arbitration, not federal court. A judge has yet to rule.
Let's go back to the beginning…
A lender named Stillwell Madison sued Erika, Thomas, and his law firm. The lender claims to have provided Thomas' law firm a loan in the amount of $5,110,440.38 in 2016. The firm was to pay back the loan with profits from cases. According to the lawsuit, Thomas promised to turn over financial statements and make timely payments.
Stillwell Madison claims to have later learned, "Mr. Girardi re-directed all or part of the proceeds, to which Stillwell was contractually entitled, to himself and his wife in order to sustain their lavish lifestyle and maintain their glamorous public image," according to reports from The Blast.
Where it gets extra messy…
The lender accused the 'Erin Brokovich' lawyer of failing to make all the required payments per their deal. At that point, Tom promised to start making monthly payments of $500k starting October 2018 and ending in September 2019. Stillwell Madison claims, "Mr. Girardi has never followed through on any of his proposals—reinforcing the indication that he (nor the Firm) has, and continues to not have, any intention of repaying the loan balance."
The lenders claim they, "would not have provided the loan had it known that Defendants were going to use the Loan proceeds to, upon information and belief, support Mr. and Mrs. Girardi's high-end lifestyle." Thus, the Stillwell Madison is suing seeking $3,454,804 owed plus punitive damages.
In case you missed it, this isn't the only lawsuit against Tom and Erika over unpaid debt. Getting sued over unpaid debt seems to be a past time for these two.
Do you agree with the Girards in that this suit is for publicity, or do you think they conduct shady business? Sound off in the comments!
---