RHOA's Porsha Williams, LHH's Yandy Smith-Harris, And Activist Tamika Mallory Arrested At Protest For Breonna Taylor
87 people were arrested outside the home of the state's attorney general during a peaceful protest.
Ashley Hoover Baker July 15, 2020 10:23am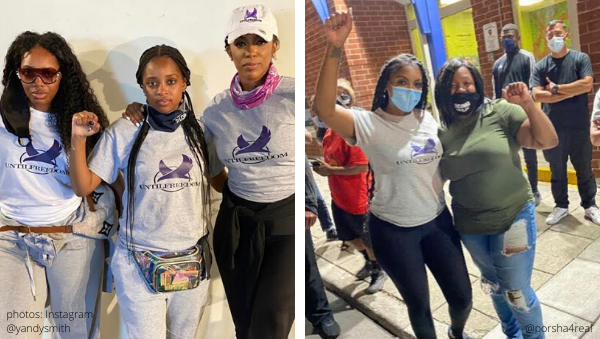 SAY HER NAME!
Real Housewives of Atlanta star Porsha Williams, Love & Hip Hop New York star Yandy Smith, and activist Tamika Mallory were arrested along with 84 others while peacefully protesting for Breonna Taylor's murder outside the home of the state's attorney general, Daniel Cameron.
Here's the full scoop:
According to NBC News, "eighty-seven people are facing a felony charge of intimidating a participant in a legal process, police said."
"On Tuesday afternoon, a group of protesters marched from a high school to Cameron's home, police said. They chanted, 'Say her name — Breonna Taylor,' wore matching t-shirts bearing the name of the nonprofit Until Freedom, and sported masks with Taylor's name."
"It has been 116+ days since Breonna Taylor has been murdered by the Louisville Police Department and no one has been held accountable," Until Freedom said on its website. "We must now escalate our actions so that the powers that be know, we will not stop until we get justice for Breonna and her family."
The AG's pathetic excuse:
Cameron said in a statement that occupying his lawn was unacceptable. (Cue the smallest violin in the world playing just for him…)
 "From the beginning, our office has set out to do its job, to fully investigate the events surrounding the death of Ms. Breonna Taylor," he explained. "We continue with a thorough and fair investigation, and today's events will not alter our pursuit of the truth. The stated goal of today's protest at my home was to 'escalate.' That is not acceptable and only serves to further division and tension within our community."
It's very telling that the AG of Kentucky is more concerned with unwanted noise in his community than encouraging citizens to exercise their first amendment rights and fight for justice for an innocent black woman murdered in cold blood by police officers. Just sayin'.
This wasn't the first time Porsha was silenced while peacefully protesting:
In case you missed it, On June 3rd, Porsha was tear-gassed while supporting the Black Lives Matter movement.
"Do y'all see this? We in Atlanta, 7:45, the curfew is not until 9:00," she continued. "We out here peacefully protesting and they tear-gassed us for no reason at all. For absolutely no reason at all. Nobody did anything."
The director of KY's ACLU clapped back:
The legal director of the ACLU of Kentucky, Corey Shapiro, said via email that the Louisville Metro PD's "use of a felony allegation against demonstrators was designed to muzzle the protests."
His formal statement read, "The ACLU of Kentucky condemns LMPD's charging these peaceful protesters with 'Intimidating a Participant in a Legal Process. This action is an overblown, outrageous, and inappropriate reaction to a community that is rightfully upset with its government's delay in holding the police accountable. The only purpose these charges seem to serve is to potentially chill the free speech rights of the protesters."
Want more information on how you can help the BLM movement?
Time.com provided a list of resources of how we can support the Black Lives Matter movement. Here is a full list of resources.
Let's take this opportunity to give a shout out to other celebrities who've used their platform to support the Black Lives Matter movement! Drop names in the comments.
---