RHOA's Porsha Williams Got Tear Gassed At Peaceful Protest
Ashley Hoover Baker June 3, 2020 11:59am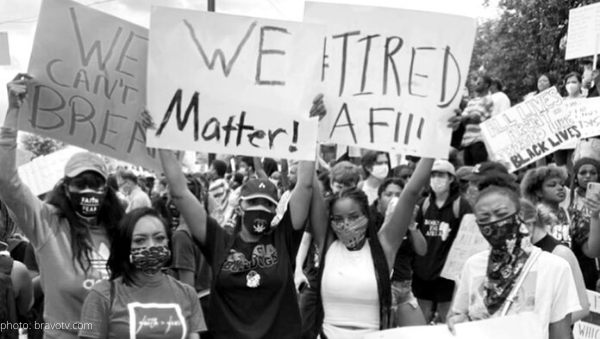 Real Housewives of Atlanta's Porsha Williams got tear-gassed at a peaceful protest. "They tear gassed us for no reason at all. For absolutely no reason at all. Nobody did anything."
Porsha's activism:
Porsha posted a video to her Instagram page of her among a large group of peaceful protesters listening to Tupac's 'Changes.' The Bravolebrity spoke directly to her followers regarding the demonstrations in the ATL. Shots were heard, so Porsha and the others began to run the opposite direction of the shots.
View this post on Instagram
The damage:
Porsha cried, "They're shooting us. It's bombs," as she raced away. She could be heard getting help from someone with milk to clean her eyes out. She can be heard assuring others, "I'm good, I'm good" — before speaking to her followers once again.
"Do y'all see this? We in Atlanta, 7:45, the curfew is not until 9:00," she continued. "We out here peacefully protesting and they tear gassed us for no reason at all. For absolutely no reason at all. Nobody did anything."
What came next:
Porsha and fellow protesters could then be seen caught in the middle of the terrifying scene while reporting from the events to their social media channels. Porsha detailed, "Now they're blocking us in. We're in the Atlanta at the capitol. They are blocking us in. I can't get out of here. We're peacefully protesting. They're coming down the street. They're blocking us in. We can't even go to other directions."When Porsha got back on the street, after stepping away from the events unfolding for a moment, she could be seen trying to reconnect with fiancé Dennis McKinley who got separated for a moment. "Everybody will know what is going on, what is happening to us right now," the peach explained in her raw and uncut footage. Later on in the footage posted to IGTV, Porsha reported, "It's almost 8 o'clock. They're definitely going to lock us up… I feel very unsafe by my own police department."
In a post to the 'gram from later that day, Porsha wrote "We have the right to freedom of assembly, the right to freedom of association, and the right to freedom of speech. Although today here in Atlanta that was taken away from us. A very peaceful group of us protesters had pepper spray bombs thrown at us! In the post right before this one you can hear the music & peaceful chanting right before we were had bombed! SMH -What a shame to try to silence the people once again. ✊🏾💔#Bloodline "Enough is enough!"
Social activism is in Porsha's blood:
According to Bravo.com, Porsha's "Grandfather, Hosea Williams, was a famed civil rights activist who worked with Martin Luther King Jr."
Porsha opened up about protesting and shared her firsthand account of being a part of the peaceful protest. "I suggest that you do be a part of a peaceful march in your community. When I went out, what I witnessed was young people who were very intelligent. They had a message. They were articulate."
Want to stay up-to-date with all your favorite reality tv stars and celebrity news and gossip?
Check out the On This Day Entertainment podcast so you don't miss a thing! Out of respect for George Floyd's life and to amplify melanated voices, there will be no new episode this week. If you are looking for an escape from our current, frightening reality, here is last week's episode.
Have you seen any other reality tv stars participating in peaceful protests? Drop names here!
---