Former RHOA Star Nene Leakes Slams 'Racist' Andy Cohen And Frenemy Wendy Williams
Will Nene take the talk show hosts to court over their Watch What Happens Live conversation?
Ashley Hoover Baker September 29, 2020 11:35am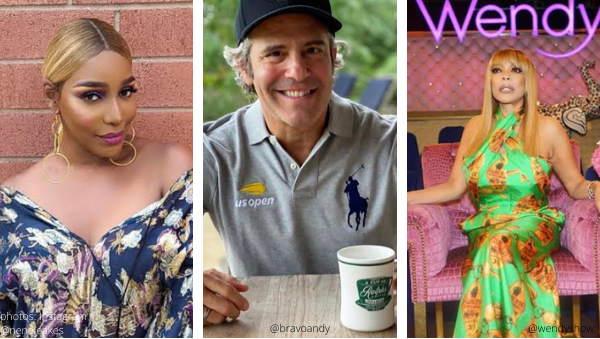 Former Real Housewives of Atlanta star, Nene Leakes, exposed Andy Cohen and Wendy Williams for their so nasty and so rude conversation after her ex-friend appeared on her ex-boss' late night talk show, Watch What Happens Live.
What did was said between Andy and Wendy?
Andy, known and loved by many for being the King of Shade, booked his friend/host of the Wendy Williams Show for WWHL. Not only do Andy and Wendy have a complicated past, Wendy also shares a dynamic history with the former peach holder.
True to form, Baby Ben's dad playfully got Wendy to dish on her former friend's departure from Bravo in a game of 'Housewives Hot Topics.'
Just as Bravo's daddy hoped, the daytime talk show host didn't hold back.
Wendy explained, "Nene likes attention, dramatic attention. I don't know what Nene's going to be doing for money, I'm not trying to count coins, but the Housewives is that one thing that all the girls use to promote their other stuff."
One thing we know about Nene is that she loves to remind anyone who will listen about her financial status.
"And what are they gonna do? Is it gonna be Gregg [Leakes] and Nene, you're gonna give them another reality show? That's boring. How about it Nene being a grandmother? That's boring. Nene and her own kids, that's boring. Nene trying to figure out Hollywood, that's boring."
Watch the shady segment for yourself:
Nene claps back:
Any RHOA fan knows Nene well enough to know she wasn't going to take this laying down. The OG of the ATL took to Twitter to share her thoughts on Wendy and Andy's kiki.
Both are f their ratings are LOW! Bye QUEENS

— NeNe Leakes (@NeNeLeakes) September 28, 2020
Nene took another opportunity to drag her former friend for having struggled with substance abuse.
She on cocaine so they should stop using her to talk! They both need my help with their poor ratings

— NeNe Leakes (@NeNeLeakes) September 28, 2020
Mrs. Gregg Leakes didn't stop there. Nene threatened to show the world a different side of the likable Bravo executive.
Keep trying me sir and imma let the world know who you really are

— NeNe Leakes (@NeNeLeakes) September 28, 2020
Nene's trigger words:
Remember back- around 150 words ago- when I mentioned Nene didn't like her coins being a topic of conversation? Well, she couldn't let that part of Wendy and Andy's chat go without a rebuttal.
I will ALWAYS eat and eat good! Believe that. I have ALWAYS believed in multiple streams of income so the leakes are good you ole cocaine head and you ole racist. No one knew you until YOU knew me. Remember I'm ICON. Don't forget

— NeNe Leakes (@NeNeLeakes) September 28, 2020
Never forget, Nene got that…
Nene deemed Andy a racist:
Twitter blew up as Nene called Andy out for his alleged behaviors.
The racist is the master manipulator! They using me for ratings like they have always done

— NeNe Leakes (@NeNeLeakes) September 28, 2020
They ALWAYS manipulating black women to say negative things about each other while they sit and enjoy us tearing each other down! Remember #BLM Remember #breonnataylor REMEMBER the most racist networks

— NeNe Leakes (@NeNeLeakes) September 28, 2020
We strictly talking the OG's. I was the ONLY BLACK OG. My white counter parts were elevated and given full season episodes EVERY season. Each season i was given less & less. Don't ask me, @ Andy and @ Bravo and ask them why pic.twitter.com/PcVfaqoguf

— NeNe Leakes (@NeNeLeakes) September 28, 2020
So much you guys just don't know! I'm going to bed now! The systemic racism is greater than you will ever know

— NeNe Leakes (@NeNeLeakes) September 28, 2020
Bravo lovers react:
Thousands of Bravoholics weighed in regarding their feelings toward Nene's Twitter rant. Many RHOA fans are tired of Nene and her constant drama.
One Instagram user commented, "Clearly she needs the RHOA paycheck…stop playing victim girl," while another commented that Nene has, "Absolutely no accountability for how her own behavior may have played a role."
Instagram's 
@housewivestrivia
wrote, "I recall Nene repeatedly walking away from scenes, getting in her car, and leaving. Perhaps, this is why she didn't have so much air time 🤷‍♀️."
This social media user came with a receipt. "Bravo even KEPT HER EMPLOYED after she put her hands on Portia and a camera person. Anybody else would have been fired on the spot. Her time is up."
Nene is a queen to many, so her fans were quick to come to her defense.
"Glad you did this Nene! Stand your ground! ❤️," wrote one Nene fan, while another commented, "I knew @bravoandy wasn't right when he tried to console @kimzolciakbiermann in the bathroom after the reunion for season 10 instead of telling her she was wrong that was low what she did at that time and now what he did to you. Defamed you're character Call them all out. I don't believe you'd call a person a racist if they weren't I can't see that."
"@bravoandy uses black people for his gain," commented one of Nene's followers. Another IG user wrote, 'Stay positive and blessed @neneleakes! You help push @bravotv to where it is today and no one can diminish that fact #bloop."
Another fan showed up for Nene writing, "That's right, I thought that whole little interview was distasteful..get them straight @neneleakes 💪🏾💪🏾💪🏾."
Nene threatens litigation:
Linnethia isn't having it. In fact, she's preparing to lawyer up.
They gone leave my name outta these shows. Send me your best discrimination attorneys info to [email protected] ITS WAR

— NeNe Leakes (@NeNeLeakes) September 28, 2020
As expected, Nene's bold statement left Twitter shook:
One Twitter user commented, "Discrimination lawsuits, go ahead and get blackballed, no other show will touch you, as another wrote "Just jump on over to @WEtv chile, with your OWN show! I promise we'll watch!" 
Do you think Nene's latest claims will make her a less attractive candidate for potential networks/employers? Sound off in the comments!
---