Love Island's Olivia Kaiser On Why She And Korey Gandy Broke Up And Cheating Rumors With Florita Diaz
Is this giving anyone else major Ross and Rachel 'We were on a break' vibes?
Ashley Hoover Baker December 14, 2021 2:19pm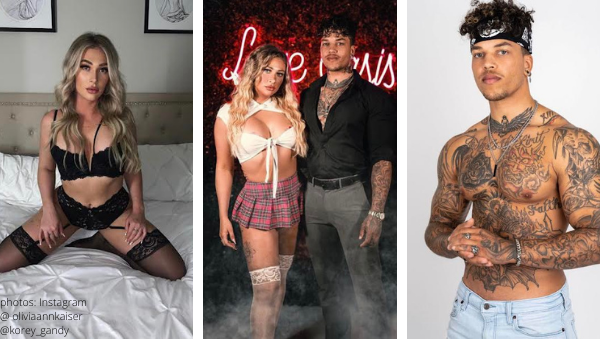 Love Island's Olivia Kaiser joined S'More Date creator Adam Cohen Aslatei (ACA) on an episode of S'More Live on Instagram to dish on her breakup with fellow season 3 LI USA winner, Korey Gandy.
Relationship status:
Regarding her romantic relationship with Korey, Olivia explained that the now-exes are still friendly.
"We are currently not together because of some life occurrences, you know. We are not together, but we still talk."
What went wrong:
"Leaving the show we were both overwhelmed, but we were both super into each other. He was willing to drop everything for me, and I was the person that said, 'I want to pull back. I feel like I'm overwhelmed.'"
"I felt a lot of pressure- not from him- but from the fans. Like, me and Korey need to have babies…literally."
"I want to step back and I want to be just friends…for now."
"I put him in the 'friend zone' again, but with that being said, we also talked every day and Facetimed every day and still call each other 'babe.' In my eyes, we were taking a step back."
"I was the one to say 'let's be friends, but then we kinda rekindled our romance back."
What about the rumors that Korey cheated?
"Korey did not have sex with Florita [Diaz]."
"Korey did not cheat on me."
"There was an incident, I'm not going to say the girl's name because I don't want anyone to get hate."
"There was a girl from the show, in Miami, that Korey did have a sexual relationship with."
"We officially had a moment where there was some miscommunication."
**Olivia later admitted on the WHOA It's Ryan! podcast that Korey and Florita hooked up in Miami before they reunited in Atlantic City.**
Watch the full interview here:
Catch what Olivia has to say about Cashay Proudfoot and Cinco Holland's relationship and so much more!
View this post on Instagram
Is this giving anyone else major Ross and Rachel 'We were on a break' vibes?
Gimme S'More:
Check out S'More Date on Instagram for weekly celebrity interviews.
Like the show Love Is Blind, S'More Date builds meaningful connections between people before they see one another. Download the S'More Dating app.
Do you think Olivia and Korey will make it work in the future ? Sound off in the comments!
---