Love Is Blind's Abhishek 'Shake' Chatterjee Calls Kyle Abrams "A Little Bihh" And "A Serial Cheater"
Ashley Hoover Baker March 2, 2022 10:01am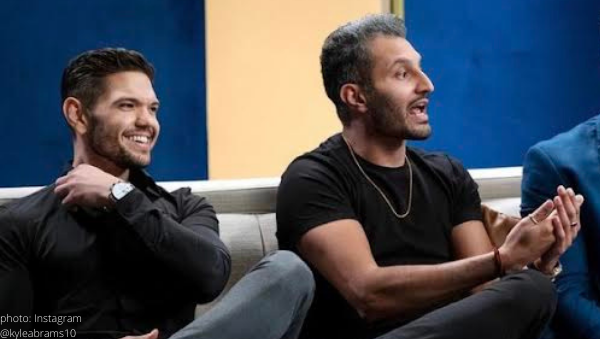 Love Is Blind stars Abhishek 'Shake' Chatterjee and Kyle Abrams are getting messy on Instagram, just days ahead of the release of the season two reunion.
Just here for the comments:
The official LiB Instagram page posted a candid photo of Shake's former fiance, Deepti Vempati, along with costars Natalie Lee and Shaina Hurley at the reunion.
Shaina's short-lived fiance, Kyle, made the comment, "Just me enjoying the train wreck
," under the photo.
Shake claps back:
Keep in mind, Kyle didn't tag Shake in his comment; however, the Nobu-loving veterinarian took Kyle's remark personally.
After tagging Kyle's verified IG account, Shake added, "translation: you're a little bihh [sp]" to the thread.
View this post on Instagram
It didn't stop there:
Shake shared a screenshot of Kyle sans shirt to his IG story adding, "Hey @KyleAbrams10. You're a serial cheater and everyone in Chicago knows it. Hope your 6 pack makes up for your lack of loyalty."
Kyle hasn't directly responded to any of Shake's comments.
Want more Love is Blind in your life?
Check out Get'n Cozy With Erin Hill for EXCLUSIVE INTERVIEWS and more!
Which season two stars are you most excited to see at the reunion? Drop names in the comments.
---