Let's Talk About The Kyle Richards, Mauricio Umansky, Morgan Wade Rumor
Is Kyle dipping in the lady pond?!?!
Staff July 2, 2023 2:26pm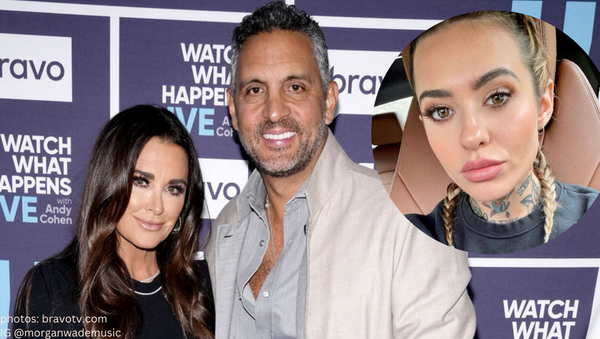 Dear Lordy, I was not ready for this one …
I'd like to begin by stating everything you are about to read is alleged.
Instagram's @FaceReality16 created a compilation to her story highlights called Kyle/Mau/Mo, referring to Real Housewives of Beverly Hills's Kyle Richards, Mauricio Umansky, and country music singer Morgan Wade.
Allegedly, there is trouble in paradise with Kyle and Mauricio, and the RHOBH OG found a 'close friend' in the tattooed country singer.
Again, this is all alleged.
Screenshots, comment section sleuthing, and even evidence of Kyle's "edgy" phase were documented in @FaceReality16's compilation. Here are some major takeaways from the deep dive:
Neither Kyle nor Mauricio post on social media about the other, nor do they engage in each other's content
They didn't take any photos together with their daughter, Alexia Umansky, at her wedding (except for awkward group shots)
Kyle moved into her "edgy" phase at the same time she began spending a lot of time with Morgan, and not posting about her husband
Kyle and Morgan have matching heart tattoos … is this giving Scandoval lightning bolt necklace vibes to anyone else?!
The most telling pieces of 'evidence,' IMHO, comes from an Instagram Live Kyle and Morgan did with Kathy Hilton.
Kathy brilliantly teased, "We have a little secret" to her loving audience. Kyle and Morgan were instantly uncomfortable and exchanged awkward glances. Kyle quickly moved the IG Live along in an effort to change the subject from her sister's snafu.
All this got me thinking … Could psychic medium Allison DuBois have been right about Mauricio and Kyle all those years ago?
Make sure to watch @FaceReality16's highlights and see for yourself!
Do you think there is any truth to these rumors? Drop your opinion below.
---