Kristin Cavallari Parties With Southern Charm's Austen Kroll And Craig Conover
There's a tall order of drunken singalongs followed by Austen throwing major shade at Madison LeCroy.
Ashley Hoover Baker December 14, 2020 1:49pm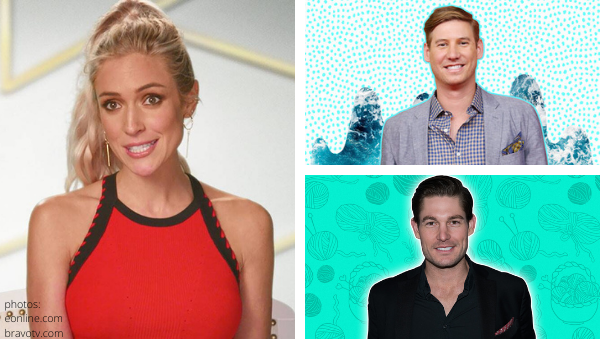 Southern Charm's Craig Conover and Austen Kroll took to Craig's Instagram stories to announce the bachelors were in Nashville to do 'a thing.'
Well said, boys…
Charleston to Nashville:
The boys from Bravo filmed themselves arriving in Tennessee explaining their reason for travelling.
"First time, first episode of our podcast we're recording here. We're going to have a lot of fun," Austen started.
Craig jumped in dropping the name of their podcast before serving followers a tease.
"'Pillows N Beer.' Our first guest, you're going to be very excited to hear from and we're going to have fun."
What happens in Cabo Nashville stays in Cabo Nashville:
Let's take a break from the Southern Charm guys and introduce reality tv royalty into the mix.
Ladies and Gentlemen, Kristin Cavallari….
Could she be the guys' first podcast guest?!?! The rest is still unwritten. (Sorry, I couldn't resisit the pun.)
The Laguna Beach/The Hills alumni shared a boomerang video of herself looking effortlessly gorgeous (as always) with the text "Washed my hair and put makeup on on a Sunday. Don't even know who I am."
Can I just say, relatable AF?!?!
Let's get this party started:
But let's check in with Kristin's bff, Justin Anderson first….
The hairstylist to the stars took to the 'gram to create a 'story' of a party goer getting their blood tested alongside the caption, "any guests coming into this house gets covid test and antibody test."
It appears Craig and Austen are covid free and were invited into the Nashville home so Austen could model one of Justin's sweaters.
View this post on Instagram
Carpool karaoke:
Let the good times roll!
Austen filmed himself in the backseat alongside Justin and Craig as they sang along with Carly Rae Jepsen's 'Call Me Maybe' as Justin as his partner, 'Scooter,' drove and KCav rode shot-gun.
James Corden wishes…
View this post on Instagram
Nothing like when the cocktails hit during a Taylor Swift chorus….
Kristin, Austen and Craig are joined by Justin and Scooter for their rendition of 'Mean.'
I can honestly say, 'NEVER EVER EVER' (in Taylor Swift's voice) found Craig or Austen attractive until I learned they are fluent in TSwizz. The way Craig jumps in is straight swoon-worthy…
But enough about me; see for yourself!
View this post on Instagram
The drunken peak:
Though the sing along did favor Taylor Swift, the gang also performed a moving version of 'Wrecking Ball' by Miley Cyrus before serving their now infamous version of 'We Are Never Ever Getting Back Together' which was not low-key directed towards Madison LeCroy.
Don't believe me?
A sloshed Justin spoke to the camera and stated, "He doesn't like you, Madison," right after Austen gave the middle finger to the camera and screamed "F*ck you." Way to keep it classy, Austen…
View this post on Instagram
The Pillows N Beer podcast will be out in early January 2021.
Do you think Austen woke up embarrassed? How do you think Madison is handling this? Drop your opinions off in the comments!
---