Kim Richards On Where She Stands In Kathy Hilton And Kyle Richards' RHOBH Feud
Ashley Hoover Baker July 22, 2022 8:40am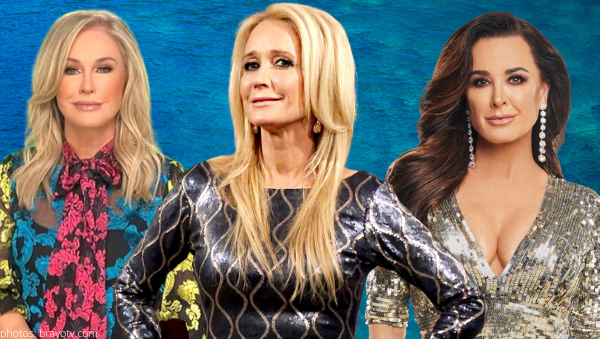 Another season, another Richards family feud…
Former Real Housewives of Beverly Hills star, Kim Richards, is on the outside looking in on the latest sister squabble involving Kyle Richards. This time, Kim didn't claim the one-trick-pony 'stole her g*ddamn house-' the drama involved a different sister…Kathy Hilton.
Unfortunately for RHOBH viewers, we STILL don't know the catalyst for the most recent war between the Richards sisters. We have, instead, watched the ladies debate the connotations of the word dark, seen an alleged thief proposition her friend's son, and witnessed the latest cast member incessantly lick her lips.
Kim's stance:
Kim admits she didn't get involved in her sisters' issues for a while since is busy participating in webinars about reiki and energy. The former child star told Entertainment Tonight she doesn't have time to watch tv.
"I stayed out of it until a couple days ago."
"When I heard the last thing that I heard, I just wrote to them both in a group text — our sister chat — and I just said, 'I love you both and I don't really know what's going on there, but I do know that we have two of our daughters are getting married this next coming year and I'd like to see if we could find a way to resolve it and I'm here to help and I love you both,' and so that's what I [did], but I didn't wanna– I didn't wanna overstep my boundary."
"But I couldn't help it anymore."
Watch the interview:
View this post on Instagram
Any predictions as to what the Kathy/Kyle drama is over? Sound off in the comments!
---