Kim Kardashian Officiated Lukas Gage And Chris Appleton's Wedding
Kim wasn't the only celebrity in Las Vegas's Little White Chapel ... find out who sang at the ceremony!
Ashley Hoover Baker April 26, 2023 2:00pm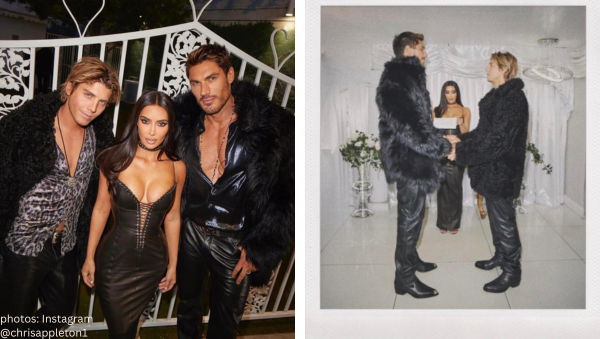 Keeping Up With Kim Kardashian's growing resumé:
Kim Kardashian can add wedding officiant to her lengthy list of titles.
Not only did the reality tv icon attend the wedding between her hair stylist/bestie Chris Appleton and The White Lotus actor Lukas Gage, but Kim married the couple, too!
In a series of photos posted to the grooms' Instagram pages, Kim read from a piece of paper at the Little White Chapel the celebrity hairstylist and the Euphoria actor held hands at the alter donning furry black coats, leather pants, and boots.
The season 4 You star captioned his post with the Nicki Minaj lyrics, "ring finger where the rock is" from the song, Only. Chris's caption said, "We did it 💍" and thanked Kim and singer Shania Twain, who performed You're Still The One at the ceremony.
See the photos for yourself:
View this post on Instagram
If you could have any celebrity officiate your wedding, who would you choose? Drop names below.
---