Deleted TikTok Proves Kim Kardashian's Dogs Live In Her Garage
Poor Sushi and Sake!
Ashley Hoover Baker December 29, 2022 1:51pm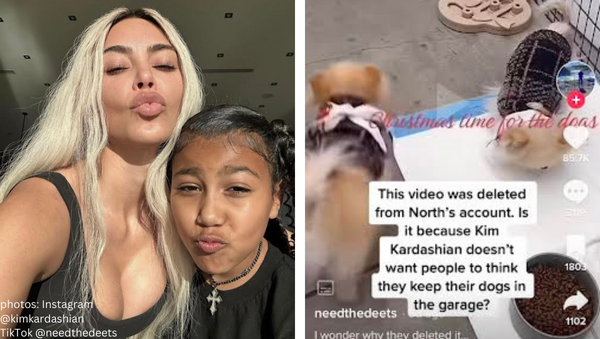 Kim Kardashian is in hot water with followers and animal lovers after posting a video explaining why fans of The Kardashians never see the family's dogs … they live in the garage.
The Keeping Up With the Kardashians alum deleted a post from her shared TikTok page with her daughter, North West, after the comment section turned sour regarding the care of Sushi and Saki.
Kim clearly wanted to show off how luxe her pups' holiday ambiance was to the account's 11.9M followers but did she fail to consider fans would realize her clothed Pomeranians are kept in cages in a corner of the garage?!?!
Shoutout to TikTok's @needthedeets for the screengrab of Kim's deleted video. They added the caption, "This video was deleted from North's account. Is it because Kim Kardashian doesn't want people to think they keep their dogs in the garage? I wonder why they deleted it…"
Naturally, the comment section of the re-post got lit.
Some came to defend Kim K.
"The hills in LA have hella coyotes, at least they're safe inside lol"
"They have stockings and a tree. I think they're doing okay."
Others were quick to call out the sub-par living conditions for Sushi and Sake.
"They have acres of land but they keep dogs in their garage smh."
"Yea I have a huge feeling they never really leave that garage."
"Prob because it doesn't fit the "aesthetic" lol."
What's your opinion of Kim's dogs living in the garage? Sound off below.
---