Kaitlyn Bristowe: Tayshia Adams Was 'Beside Herself' After Zac Clark Breakup
"I was just really proud of how she handled everything because it felt like a true professional."
Ashley Hoover Baker December 20, 2021 11:08am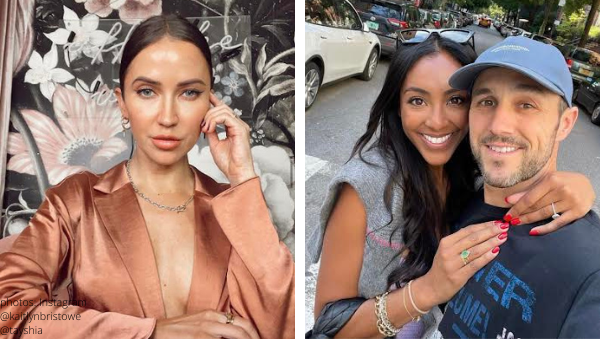 Kaitlyn Bristowe is 'proud' of her Bachelorette co-host Tayshia Adams for her professionalism during the Men Tell All special.
Breaking Up Is Hard To Do:
"I know she was just really struggling that day because the news [of her breakup with Zac Clark] had broke and she was really upset."
The season 29 winner of Dancing With The Stars was a guest on the Here For The Right Reasons podcast and shared details from this part of Tayshia's journey.
"I'm so proud of her for being so professional and being able to show up and put a smile on her face and do a great job hosting while going through it."
The elephant in the room:
Kaitlyn "didn't wanna ignore" her co-host's broken engagement, so they decided to talk about the split to make sure Tayshia "has a voice and that she's able to talk about it and not just pretend it didn't happen or just go through the whole show when she was clearly, like, struggling that day."
"It was just tough to work in because I wanted to put Tayshia's feelings first. I saw her in the trailer so upset. She was having anxiety. And I was like, 'We don't have to address this if you don't want to. But I think if you want to have your own voice and be able to, like, just share how you're feeling, it's up to you.'"
"And so, I mean, at the end of the day, as long as she was—now I saw comfortable, she wasn't comfortable with it, but she wanted to address it. So, we had to put it in there somewhere. And, honestly, I was just really proud of how she handled everything because it felt like a true professional."
In case you missed it:
During the Men Tell All episode of Michelle Young's season of The Bachelorette, Tayshia, shared "But we tried really hard, and I still love him very much," she continued while fighting back tears.
"And I'm not sure what the future holds. You know how it is, it's really tough." Tayshia later removed herself from the stage to regain composure.
Want more Bachelor Nation in your life?
Check out the Get'n Cozy With Erin Hill podcast for EXCLUSIVE INTERVIEWS and more!
Do you enjoy the dynamic of the former Bachelorettes hosting? Sound off in the comments!
---