Bachelor Nation's Jordan Kimball Dishes On His Love Life, Becca Kufrin, Colton Underwood, And More!
Learn Jordan's feelings on Clare Crawley's departure as well as why he has beef with Bennett Jordan.
Ashley Hoover Baker December 26, 2020 12:12pm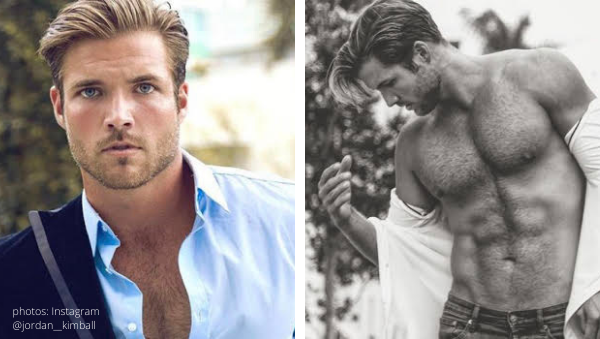 ——————————————————————————————–
Update 12/26/2020
Congratulations to Jordan Kimball and his FIANCE, Christina Creedon who got engaged on Christmas Eve.
Jordan took to Instagram to announce, "I would bend my knee a million times to stand by you. This ring represents how much I love and listen to you." The romance faded into the shadow of an ad "#jamesallenpartner I selected every detail while smiling and nervously envisioning this moment."
Jordan continued, "I can't express how lucky I am and just how deeply I've fallen in love with you Christina. I could cry thinking about how happy you make me. I promise to love, nurture and to protect you as long as my heart beats here on earth. I hope that even beyond this life you'll remember this love. I can't imagine life without you anymore. Your voice, smile and presence are forged into my picture of the future forever. You're absolutely precious and I want to bring all of your dreams to life."
View this post on Instagram
Wishing a lifetime of love and happiness to the couple!
——————————————————————————————–
Originally published on 12/19/2020
'Tick Tock- Let's Make It Rock!'
Jordan Kimball joined S'More Date creator Adam Cohen Aslatei on episode 52 of S'More Live on Instagram to chat all things Bachelor Nation, his current relationship, and beyond!
ACA: What was on your audition tape?
"I didn't do an audition tape. They just interviewed me in person because I had been recruited online. They said I had a good look for the show."
After travelling to Santa Monica for an in-person meeting (remember those?), Jordan spoke with the producers for about 45 minutes before the wirlwind began.
"I got a packet. I immediately went to being a semi-finalist and the next thing I know I got the greenlight. I'm going."
What qualities drew you to Becca Kufrin?
The Bachelorette season 14 contestant was instantly drawn to Becca knowing she was a woman of faith. "I like the fact that she has a cross on her wrist. She seems to be a strong woman."
He liked that Becca was goal oriented, ambitious, and had her stuff together, but was also attracted to the fact she has small town roots- a welcomed change for the model.
"She was very nice. We really had a good friendship."
Who was your biggest competition in the house?
David Ravita, he felt, wanted to take him down. "He could just say something into the house and put it in their ear and drum it up and manifest it."
After elaborating on how he felt he stood apart from the other contestants, he explained "The most competitive person that was playing against me was David. No doubt about it."
Jordan is TEAM NOAH in the war to win Tayshia Adams' heart this season on The Bachelorette. The Bachelor In Paradise winner liked that Noah Erb called Bennett a 'Harvard d-bag' after bragging about his multiple homes and off-shore bank accounts.
Though Jordan thinks he would be able to get along with Bennett, he wouldn't stand for Bennett speaking condescendingly to others in the house as he did to Noah.
Which contestant from your house is in the most need of an attitude makeover?
"Definitely Colton [Underwood]. That guy just thinks that he is potpourri. He just comes smelling good off of everything. I just don't care for his attitude or his outlook."
Later in the interview, ACA asked Jordan who his biggest enemy was. Spoiler alert… It's was Colton! "I've said not nice things about him, but everything was true. I have no regrets."
Thoughts on the first black Bachelor?
"I think it's great. I think that Matt [James] is a great pick for the lead." Though Jordan doesn't know much about Matt going into his history-making season, he's hopeful to learn more about him as the show airs.
"I'm happy for Matt. I think it's a good thing."
What's your opinion of Clare Crawley's departure?
Jordan passionately responded, "She didn't give everyone the opportunity they deserve. These guys left their lives to come and be with her and date her. She was not having it."
In Jordan's opinion, Clare did the right thing by leaving the show- not only for the viewers (himself included), but for the contestants.
Jordan described Clare as 'underwhelming' and a 'bottom 5 Bachelorette' before calling out her social media behavior prior to filming as 'disrespectful' to the process.
What has made your current relationship work?
He met his current girlfriend at the airport, helping her with luggage- which was twice her size.
"If I'm 80% of a category, she's 20%. We fill each other's voids." After adorably gushing over Christina Creedon, he concluded "I love her. I really do."
What do you think of Netflix's Love Is Blind?
"Love Is Blind is brilliant. Giving someone a shot before being judgmental on the surface is incredible."
Jordan is close with Love Is Blind's season one experiment winner, Lauren Speed.
Tune into the full interview to hear who Jordan would like to 'marry, shag, and remove' between Raven Gates, Desiree Hartsock, and Alexis Waters, play a drinking game with the guys, and consider Jordan's dating advice. You won't want to miss it!
Watch the full interview here!
View this post on Instagram
Check out the Love is Blind experience for yourself and get the S'More app here!
Which of the women we've seen Jordan date over the years did you think was his best match? Drop names in the comments!
---