RHOSLC's Jen Shah Teases "Dress Rehearsal...See You Soon" Online, But What Does She Mean?
Here's a popular Bravoholic theory and reactions!
Ashley Hoover Baker January 13, 2023 7:30am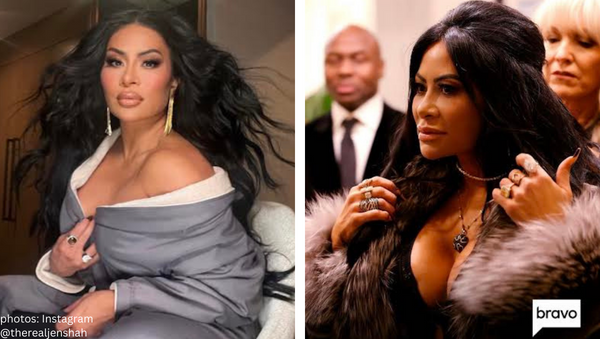 Tone Deaf AF:
As if treating herself to a fancy dinner party with 20 friends after being sentenced 6.5 years in prison for facilitating a telemarketing scheme that targeted senior citizens wasn't bad enough, Real Housewives of Salt Lake City star, Jen Shah, took to her Instagram story (in full glam) to tease a future project.
You can't make this sh!t up …
The post:
Jen's Insta story will expire after 24 hours, but screenshots live forever.
View this post on Instagram
Bravoholics react:
The consensus among the Bravosphere is that Jen is most likely going to do a one-on-one interview with Andy Cohen before she turns herself in on February 17th for her extended stay in Shah Chalet 3.0 (aka prison.)
**In case you forgot, Bravo aired a sit-down interview with Real Housewives of New Jersey's Teresa Giudice with Andy Cohen before her 11-month-stint in the slammer, so even considering such an interview with Jen would be beneath the network's moral code is comedy.**
In a nutshell, the masses weren't happy. See for yourself …
"I don't like this. At all. How can we believe anything this person says after watching her plead her innocence and then plead guilty when there's proof of her crimes."
"The girl don't miss a dang beat. I will be watching though. Will you? Regardless, my heart goes to her house 💙."
"She looks truly remorseful 🙄🚮. Jen is allegedly glamming up for a sit down interview with Andy. Just my two cents: This is disappointing. I know people have questions but continuing to give this human dumpster any sort of platform is beyond me. She's just going to cry crocodile tears and make more insincere statements to victims she doesn't care about. I don't need to hear her explain anything. She's a textbook narcissist and doesn't have any empathy for her victims; quite frankly her behavior speaks loud enough for itself. /endrant."
"What I want to know is how much money did the glam cost? And how much is this costing to produce? And if Bravo is donating to a fund to compensate the victims for the amount cost to produce this hot mess?"
"That doesn't seem right. It seems like she's gloating look at me I got a one-on-one. It's unseemly. This should not be happening."
"Hey Bravo: stop trying to milk every last dime out of this dud of a franchise by exploiting the pain & suffering of Jen's victims. She had an entire season after her arrest to speak her mind & she chose to spend that time lying. Enough! Stop giving Jen Shah a platform & let her victims close the door on this chapter of their lives in peace ✌️."
"I'm boycotting this bull$hit interview."
If Jen really is filming a sit-down with Andy, will you tune in? Sound off below.
---