Jen Shah Is Still Employed By Bravo And Plans To Pay Restitution While Serving 6.5 Year Prison Sentence
"My manager is here [in court] and we're working on things."
Ashley Hoover Baker January 6, 2023 11:11am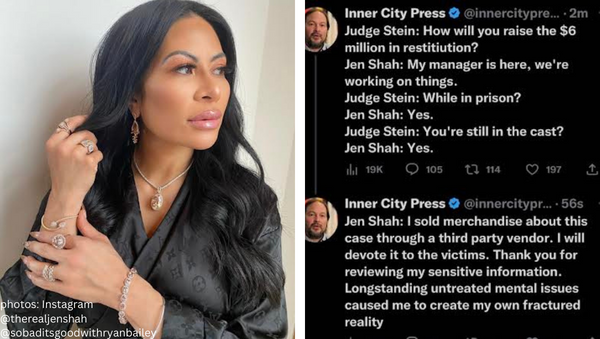 Now that Real Housewives of Salt Lake City star, Jen Shah, has been sentenced to 6.5 years in prison beginning in  February 2023, the court has some questions for the 'Shah-mazing' reality tv star.
Judge Stein inquired about how Jen planned to pay back the 6.5 million she is forced to forfeit. Fair question, if you ask me. 
Jen responded, "My manager is here and we're working on things."
"While in prison?," asked the Judge to which Jen answered, "Yes."
Asking the question burning in Bravoholics minds, "You're still in the [RHOSLC] cast? "
After Jen confirmed she was still on Bravo TV's payroll, she explained that she is working on a plan to pay back the victims.
"I sold merchandise about this case to a third party vendor. I will devote it to the victims."
As far as why Jen is in this situation in the first place, the Bravolebrity blamed her crimes on her ongoing battle with mental health.
"Thank you for reviewing my sensitive information. Longstanding untreated mental health issues caused me to create my own fractured reality."
View this post on Instagram
How do you think Bravo will proceed with Jen moving forward? Sound off below.
---