Jeff Lewis Doesn't Believe Kyle Richards Lost Weight Without Ozempic While Melissa Gorga Believes She Did
Jeff believes "went off of it [Ozempic] to be like, 'I'm not on it,' so she's not technically lying."
Ashley Hoover Baker January 26, 2023 3:20pm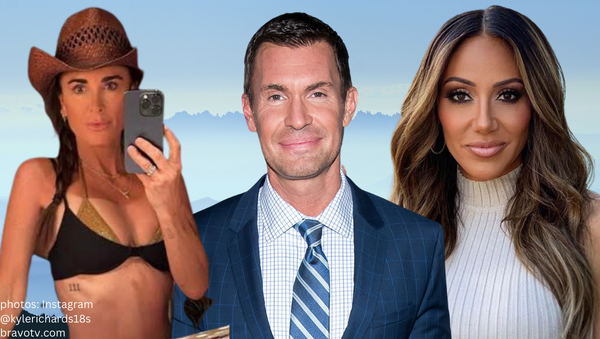 Is Kyle cutting corners?
In an appearance on the Jeff Lewis Live podcast, Real Housewives of New Jersey's Melissa Gorga chatted with the former Flipping Out star over Kyle Richards' recent weight loss.
Melissa and Jeff were not on the same page regarding the Real Housewives of Beverly Hills star's claims to have lost weight strictly through diet and exercise.
Melissa's take:
The RHONJ star didn't hesitate to declare that she thought Kyle was taking Ozempic – a prescription medication for adults with type 2 diabetes.
"I'm not gonna lie, when I first saw her, I was like, 'Ooh she's taking that stuff,'" noted Melissa on the Sirius XM show.
Melissa did change her tune after her Real Housewives Ultimate Girls Trip co-star credited her weight loss to diet and exercise.
"And then when she said that, I'm like, 'Oh OK maybe not.'"
Jeff's take:
The former Bravo TV personality didn't believe that Kyle abstaining from booze and carbs caused her to lose so much weight so quickly.
"I think what she did is probably went off of it to be like, 'I'm not on it!' So she's not technically lying."
Jeff questioned the Halloween Ends actress. "I love her, but it's not just not drinking since July – I mean, come on."
Melissa interrupted to save her friend by stating Kyle "looks great."
Jeff's truth:
While celebrities are quick to deny using Ozempic for weight loss, Jeff didn't hold back telling his audience he has been looking into going on Ozempic.
He even found a three-month supply to "lose the 10, 12, 14 pounds."
Whether you love, hate, or love-to-hate Jeff Lewis, the man speaks his truth.
Are you on Melissa's side or Jeff's side on whether Kyle is using Ozempic? Sound off in the comments.
---