Update- DWTS's Gabby Windey Dishes On Relationship With Vinny Guadagnino
"Apparently both of us just like to kind of stir the pot.
Ashley Hoover Baker November 19, 2022 9:15am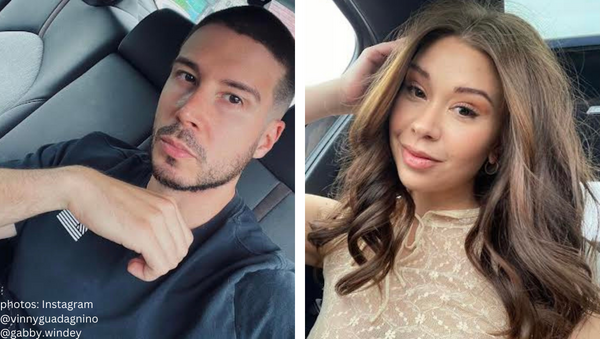 Updated post 11/19/2022 @9:15
"Guido in training" ?!
Gabby Windey made a guest appearance on the "Chicks in the Office"  podcast and set the record straight regarding her relationship with former DWTS co-star, Vinny Guadagnino.
"I mean, we're friends. We were on Dancing With the Stars together," explained the former Bachelorette.
Joking that she was a "Guido in training," Gabby dished "All of a sudden … everybody's blowing up in the comments."
"Apparently both of us just like to kind of stir the pot. Which is, like, funny. But [the rumors] did happen out of nowhere."
The recently single DWTS31 finalist added that it was "hilarious to watch" the media storm she created with the Jersey Shore hunk.
**But was it really "out of nowhere?!?!" Continue reading to find out where the rumors began …**
---
Original post 11/16/2022 @10:19
Flirting on the 'gram:
Dancing with the Stars favorites Vinny Guadagnino and Gabby Windey threw fans for a loop when the notoriously single Jersey Shore engaged in a spicy Instagram exchange with the recently single Bachelorette.
The IG account @commentsbybachelor snapped screenshots of a back-and-forth between the possible pair after the self-proclaimed 'Keto Guido' posted a relaxed pic after his DWTS season 31 elimination.
Vinny captioned his photo "stop looking for the one…be the one, and let them all come to you."
***Was this a sort-of-subtle nod to Gabby who recently looked for love on ABC's dating show?**
Gabby responded, "omw" to his post just before Vinny added, "patiently waiting while you kill the finale."
See for yourself:
View this post on Instagram
ICYMI:
This wasn't the first time Vinby/Gabny (let's work on this couple portmanteau, friends…) took their flirtation to social media.
After earning a spot in the DWTS31 finale, Gabby posted a video of her semi-final performance.
Vinny congratulated the former pro-cheerleader, "Good job babby mamma," to which Windey replied, "My main man."
Picture this:
For anyone else in this niche group of Jersey Shore/Bachelor Nation superfans find themselves imagining an interaction between Vinny's Uncle Nino and Gabby's Grandpa John? Just me?! Please lordy, put a camera on these two …
Do "Apparently both of us just like to kind of stir the pot.you think Vinny and Gabby would make a compatible couple? Sound off in the comments.
---