Find Out Which Of Dorinda Medley's Insensitive Comments Put Andy Cohen Over The Edge
RHONY fans and Andy Cohen agree Dorinda's remark toward Tinsley Mortimer's fertility stuggle was horrible.
Ashley Hoover Baker September 1, 2020 12:06pm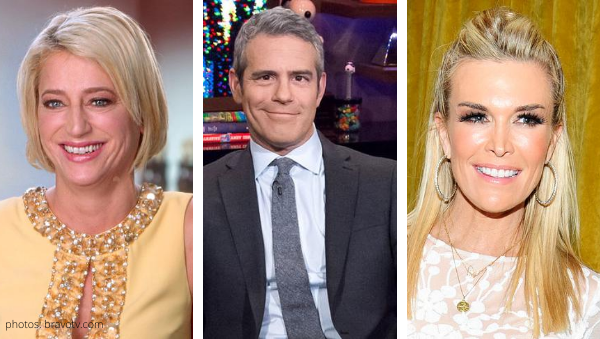 Dorinda Medley may have made it nice in the Berkshires, but she was far from kind to her former co-star, Tinsley Mortimer.
According Page Six, Dorinda's hurtful statement involving Tinsley's fertility struggle and a turkey baster "'offended' the longtime 'Watch What Happens Live!' host and 'RHONY' executive producer so much that it factored into Medley's firing last week, the source said. It was part of sealing her fate.'"
In case you missed it:
RHONY fan reactions:
The majority of fans were glad to see this version of Dorinda get the boot.
I loved Dorinda but she just got more viscous each season. All my friends tuned out this season because of her behaviour. Women should be kind to each other and the turkey Baster comment to Tinsley was lower than low. Yet she'd never apologised She's too proud to own it though

— Luz (@Luz35056326) August 28, 2020
An Instagram user wrote, "I am a big fan of Dorinda but her treatment of Tinsley was hard to watch. ❤️ Tinsley and she did deserve any of it."
I love dorinda & will miss her but was ready to see her go after that disgusting turkey baster comment. What a wretched season of dorinda

— Pleather (@kitkova) August 28, 2020
Dorinda's drunken alter ego, Slurinda, is to blame for her cruel comments. This Twitter user is here to remind you that Slurinda was not present at this get together.
Dorinda Medley scathing comment to Tinsley Mortimer re getting her a "turkey baster to try to get pregnant" was shockingly cruel. And Dorinda wasn't drunk. #rhoNY #rhonyc pic.twitter.com/c9vzOFGqWO

— @___Lorenco___ (@___lor__) September 1, 2020
@bravopopculture shared their hot take on Dorinda's termination, "I adore Dorinda but that comment was so cruel. I hope she takes a break and comes back to the show later on and is even better than ever!"
I'm honestly relieved for Dorinda. The show clearly wasn't good for her in the end. And she'll still stay in touch with Lu/Sonja/Leah… maybe not Ramona 😂

— Caitlin (@la_faerie) August 25, 2020
Not all RHONY fans think firing Dorinda was a good choice:
An @onthisdayentertainment follower wrote, "It was an awful thing to say to Tinsley and she was super mean to her all season but I feel like other housewives have been worse but maybe spread out over more seasons 🥴 so why go for Dorinda? I might be an unpopular opinion but I don't think she should have been fired. If anything she is going through something and may need to get a little more support. Maybe that's better to do off camera i don't know. I've always loved Dorinda – hot temper and all, so I hate that she's gone."
Want to stay up-to-date with all your favorite Bravo news and gossip?
Check out the On This Day Entertainment podcast so you don't miss any dirt on your favorite celebs. Here is the most recent episode that breaks down Dorinda's resignation/termination.
Do you think Dorinda deserved to get fired? Sound off in the comments!
---