Selling Sunset's Jason Oppenheim And Emma Hernan Surprise Chrishell Stause With An Early Birthday Party
Ashley Hoover Baker July 18, 2022 10:20am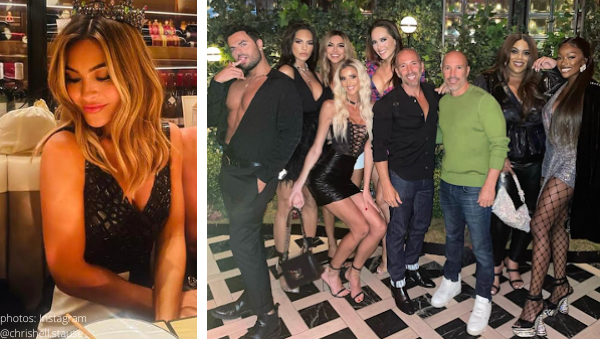 The stars of Selling Sunset know how to party!
The cast and friends of the popular Netflix reality tv show surprised Chrishell Stause with a birthday party at Los Angeles' Catch Steak.
Party planners:
Chrishell shared the deets with her Instagram followers.
The soiree was hosted by the actress/real estate agent/author's co-stars Emma Hernan and Jason Oppenheim, Chrishell's ex-boyfriend.
"So my actual bday is Thursday July 21st, & thought I was just going to dinner with @emmahernan. Bday elves Emma & @jasonoppenheim coordinated the absolute BEST early bday surprise!"
The surprise:
"I walked in and only saw @theninaparker at first & just was excited she was at the same restaurant😆The video of me realizing makes me laugh so much-had no clue -you guys are GOOD!"
"I love you all SO much!! Had an absolute blast-my 1st ever surprise bday party! My lil emo cancer heart is soooo grateful for the best friends a girl could have."
The guest list:
Also in attendance were Oppenheim Group newbie Chelsea Azkani, Amanza Smith, Jason's twin brother Brett Oppenheim, and hairdresser Bradley Leake.
View this post on Instagram
Moving on:
In an interview with People from June 2022, Jason dished on his relationship status with his former flame.
"It's great. It really is. We just…were at the MTV awards together and just had a great time with her and her significant other."
"We're really in a healthy place and in a really good place. It feels good."
In case you missed it:
Chrishell is currently dating Australian musician G Flip, who she met while filming a music video.
"It started because I was just going to be in their video. And, it's about this chaotic love story."
"I come from soaps, I love acting. And, with the job that we have, I don't always get to do it. At first of course I was like yes, let's do that."
Happiest of bdays to Chrishell and all of our friends with July birthdays!
---