New Theory Revealed Involving The Disappearance Of Tiger King Star Carole Baskin's Husband
The online sleuths from a Facebook group may be on to something...
Ashley Hoover Baker August 14, 2020 9:26am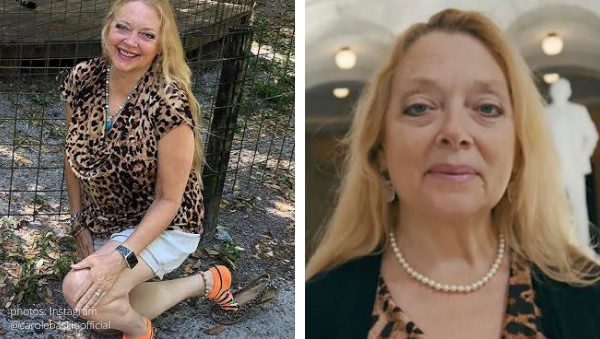 Hey all you cool cats and kittens!
There is a new theory circulating the internet regarding the disappearance of Don Lewis, the former husband of Tiger King's Carole Baskin. 
Thanks to the internet hype around the popular Netflix documentary, police have used information from the show to help solve the missing person case. This time is a bit different, though.
The Facebook Group:
A group of online 'Hardy Boys' and 'Nancy Drew' types created a Facebook group to help bring justice to Don Lewis.
According to TMZ, "Jack Smith — the spokesman now repping Don's family — tells us he and a group of internet sleuths joined forces earlier this year after the premiere of 'Tiger King' and formed a Facebook group to search for the truth about Don's still-unsolved disappearance in 1997."
The group's theory:
The online detectives think Don may have been buried on his and Carole's animal sanctuary property — under a septic tank system. What a crappy way to go!
"According to Jack … the research team has obtained the actual receipts and permit paperwork for the septic tank's installation. Carole has publicly acknowledged two septic tanks — one that she claims was installed well before Don's disappearance, and another installed well afterward," per reports from TMZ.
The receipts:
The receipts indicate a septic tank system was worked on and installed right around the time of Don's disappearance, almost exactly 23 years ago.
The group claims the receipts indicate that a permit to install the septic tank was pulled on August 4, 1997. Oh, and then there was a mound of dirt was delivered to Carole's address, so there's that. 
There's one very powerful person in Carole's corner:
In case you missed it, Carole was ruled out as a person of interest by the Hillsborough County Sheriff, Chad Chronister. "If we get some credible leads we'll dedicate the entire homicide section and beyond. When you talk about a possible homicide or missing person's case that's 23 years old there is nothing more important to us than justice to his family, his family that received no inheritance".
Well, an active member in the Facebook group, Linda Sue, called Chad out for his lack of diligence in providing an adequate investigation.
Here's Linda Sue's response: "Well Chad, since this interview you have been sent numerous credible leads, including means, motive and opportunity, yet you fail to reclassify this case to a homicide and provide a proper investigation. Clearly you have not done everything possible to solve this case then or now and by your own public statements you named red flags, feel Don Lewis was murdered and later in the news verified the POA and Will were forged. Perhaps you should get your facts straight on when the septic tank was installed, the details regarding Carole's brother (officer) the night Carole claims to have gone to 'Albertsons' before giving public interviews that are misleading. Making excuses about this being a complicated case and ignoring questions and concerns that have been posted on the Sheriff's Facebook wall is not acceptable nor is the fact this group has found more evidence in a few months than your office has in 23 years. How incredibly messed up is that Sheriff Chad Chronister? Please respectfully provide the citizens of Florida (who you vowed to serve) an update on this open investigation."
Stay tuned for more on this developing story.
Going through Tiger King withdrawal?
I recorded a special episode of the On This Day Entertainment podcast to break down the rise and fall of Joe Exotic's GW Zoo and his rivalry with Big Cat Rescue owner Carole Baskin, to Joe's 'unorganized crime' attempt that ultimately led to his arrest. Listen here!
Is this Facebook investigation giving anyone else Don't F*ck With Cats vibes? Do you think they will be a successful as their online justice predecessors? Sound off in the comments!
*There was an 'edit to add' Linda Sue's name from the Facebook group mentioned in the article.*
---