Bethenny Frankel Has Dinner With Nene Leakes, Rachel Leviss, And Hella 90s Icons
Staff October 18, 2023 10:48am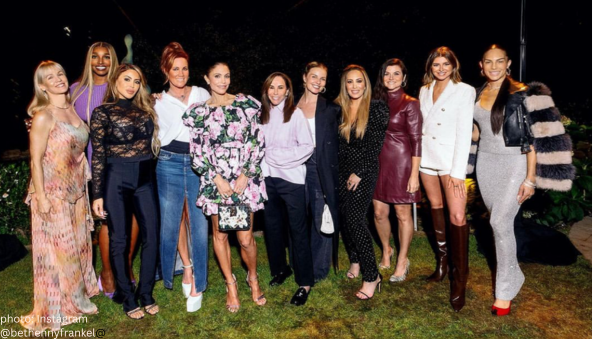 What in the reality TV star / 90s icons crossover heck is happening here?!?!?
Former Real Housewives of New York star, Bethenny Frankel, had dinner with a few other Bravolebrities, but also stars from Beverly Hills 90210, Saved By the Bell, and Clueless.
My xennial/Bravo-loving heart is not ok.
Bethenny took to Instagram to share a group photo of herself with Real Housewives of Atlanta alum Nene Leakes, Real Housewives of Miami star, Larsa Pippen, and Vanderpump Rules's Rachel [formerly Raquel] Leviss.
After all the drama around B's "reality reckoning," it's not surprising to see her photographed with Nene and Raquel … who both have sordid pasts with Bravo TV.
What's more interesting, imho, is that Beverly Hills 90210 stars Jennie Garth & Tiffani Theissen and Clueless actress, Elisa Donovan, were also in the photo!
This girl group is all that and a bag of chips, if you ask me!
The BStrong founder captioned the group pic, "Thanks for a beautiful night ladies…I'm still cleaning up all the spilled tea.🍵"
View this post on Instagram
I'm not the only person who is flabbergasted by the range of celebrity in this photo, which also includes Dancing With the Stars's former pro-dancer, Cheryl Burke, and comic legend Joan Rivers's daughter, Melissa Rivers, who often appeared with her late mother on Fashion Police.
Ramona was wrong! You do have girlfriends!

What a random group of people lol

I'm glad Rachael has you and now, hopefully, the other ladies. You're all class Bethenny.

is this the next house of (iconic) villains cast?

Jennie Garth and Tiffani Amber Thiessen were at the same dinner!?

WOW to be a piece of grass just to hear what all of you were talking about! 😍❤️

I feel like I've been transported back to the '90's & I want to stay awhile

i did not expect to see Larsa ☕️

an incredible group of women minus Rachel….how did she get an invite? 😂

Not my beloved Kelly Kapowski next to Rachel 🫣

KELLY AND VAL!!!

So many icons. Yet "one of these things ….. One of these THINGS DOESN'T BELONG" Rachel. Rachel doesn't belong!!!!

Now this a reality show I ld watch. Good group
What do you think this fascinating group chatted about? Sound off below.
---