Former Bachelorette Katie Thurston Regrets '12 Days Of Messy' Inspired By Taylor Swift's Red
"I can view things in my way … like light and funny [but] there's everyone's own personal experience."
Ashley Hoover Baker December 18, 2021 11:39am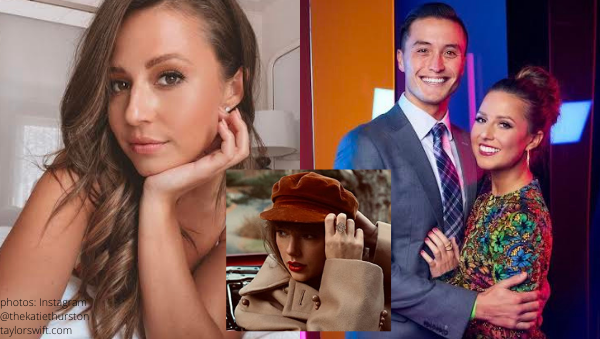 Hey Siri.
Play 'Everything Has Changed' from Red, Taylor's version. 
If former Bachelorette Katie Thurston could go back, she wouldn't have given her final rose to Blake Moynes, nor would she have participated in the '12 Days of Messy' social media challenge inspired by the release of the album Red (Taylor's version.)
"If I could go back in time and not do the '12 Days of Messy,' I would not, to be honest," Katie confirmed.
In the profound words of Taylor Swift, "I have a lot of regrets about that."
State of (dis)grace:
A loving gesture toward her new boyfriend, John Hersey, got lost in the sauce as Katie's long list of ex-lovers came off to many as insane.
"All I know is, in the moment [I did the '12 Days of Messy'] I was, and am still, the happiest I've been."
"I wanted to make a big grand statement about where I'm at and who I'm with. That's all I can do is live my truth, live my happiness and, you know, people who want to be there and support us, great. If you don't, that's fine, too."
Maybe [Katie's intention] got lost in translation:
Katie clarified after posting "We Are Never Getting Back Together" honoring her ex-fiancé, Blake, that they were "not compatible as life partners " and the word 'messy' from the name of the challenge was not to be taken seriously.
In case you missed it, dedicating "I Knew You Were Trouble" to Thomas Jacobs resulted in Katie getting unfollowed by former Bachelorette, Becca Kufrin, who began dating Thomas on Bachelor In Paradise.
Katie reflected on IG live, "What I'm learning is, I can view things in my way, like light and funny, [but] there's everyone's own personal experience."
Stay, Stay, Stay:
If Katie's new beau looks familiar, it's because he was a suitor on Katie's season of The Bachelorette. The sex-positive influencer eliminated her now-boyfriend on week two of her journey.
"What I didn't like was the amount [sic] of people who thought there was no way John and I could have a connection."
"John is my world. John is handsome, John's romantic, John is everything."
Looks like Katie decided she wanted John to 'Come Back…Be Here' after all.
Let's hope there are no 'Dear John' dedications from Katie to John Hersey in the future…
Want more Bachelor Nation in your life?
Check out the Get'n Cozy with Erin Hill podcast for EXCLUSIVE INTERVIEWS and more!
Do you think Katie and John will last longer than Taylor Swift's relationship with Jake Gyllenhaal as detailed in 'All Too Well?' Is John Hersey a 'Better Man' for Katie than Blake? Sound off in the comments.
---