Katie Thurston And Brittany Galvin: The Sex Positive Babes Of The Bachelor
Ashley Hoover Baker January 31, 2021 1:05pm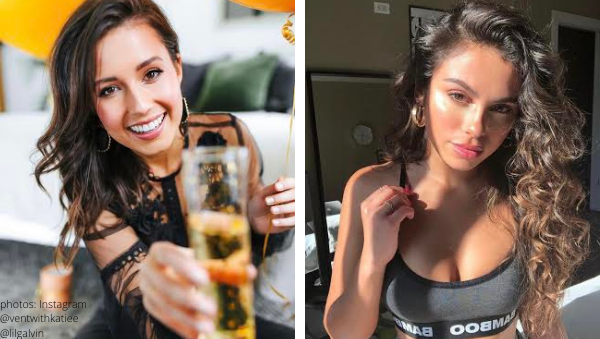 Would Katie Thurston and Brittany Galvin accept these roses for changing the narrative regarding women and their sexuality?
These confident contestants from Matt James' season of The Bachelor are using their voices to help evolve the conversation of female sexual empowerment.
Katie:
A consistent fan favorite from season 25, Katie caught the attention of Matt (and America) when she exited the limo with her precious purple dildo in hand.
ABC's Rob Mills dished to Variety.com, "That [the vibrator] was Katie's idea. There are certain arrivals where people have a germ of an idea and the producers are there just to help out — it's not like we decide that you're going to be the person who shows up on the elephant. In this case, Katie had this idea."
Matt told ETonline.com, "I thought it was funny."
"It's who she is, that's how she wanted to come and represent herself, and I thought it was awesome. I was comfortable doing something like that, and I'm not going to shame her for that. That was dope. It was a super… ice breaker."
Variety reported, "Fans are already calling for her to become the next 'Bachelorette.'"
Katie's social media influence:
The bank marketing manager is no stranger to having casual conversations about sex- have you seen her TikToks? Katie has well over 250K followers, so she's doing something right.
Here is a witty post the brunette beauty shared on Instagram!
View this post on Instagram
Katie supports other women:
Katie showed her true colors when other ladies in the house were getting bullied.
Before Sarah Trott decided to leave the competition, Katie lent a listening ear to the emotional front runner- even after Sarah interrupted their group date and Katie's time alone with Matt.
I WISH I could have handled that situation with such grace!
Oh, and never forget the time Katie alerted Matt of the bullying and slut shaming from the OG contestants to the 5 new women.
Brittany:
Though Brittany may be part of the last group of women to meet Matt, she left a lasting impression on him.
Alexa, play 'Mr. Brightside.'
The rumor:
Brittany's cast mate and fellow Chicago resident, Anna Redman, spread a rumor alleging Brittany "entertains men for money"  even claimed multiple people went "out of their way" to send her messages about the Brittany's alleged sex-work.
Yahoo.com shared more from Brittany's now-expired Insta Story.
"And for the people who are, don't let others tear you down. Keep sharing your stories with me because they are all so powerful. I'm here to support you like how you have to me!"
"How would you react when someone tries to exploit you to the world with an accusation that could affect your career, reputation and future relationships."
Brittany even stands up for her bullies:
Sure, it would have been easy for Brittany to indulge in the negative press her co-stars are receiving, but she stepped up to defend her fellow females.
Like previously mentioned regarding Katie, I WISH I could handle a situation like this with such grace.
When social media users started to drag Anna (and 'Queen' Victoria Larson) for trash, she spoke up. "Yes it was a sh*tty thing to do, but let's not destroy someone's life over it. Bringing others down is exactly what I don't want. We are bigger and better than that."
Need more Bachelor Nation in your life?
Check out the Get'n Cozy With Erin Hill podcast for the latest news and gossip from the franchise as well as EXCLUSIVE INTERVIEWS you won't want to miss! Here is the most recent episode.
Do you think either Katie and Brittany will receive Matt's last rose? Drop your predictions off in the comments!
---