Bachelor Alum Kelley Flanagan Diagnosed With Lyme Disease
"It's not the end of the world, but it's definitely gonna be a lot of changes."
Ashley Hoover Baker August 31, 2021 1:03pm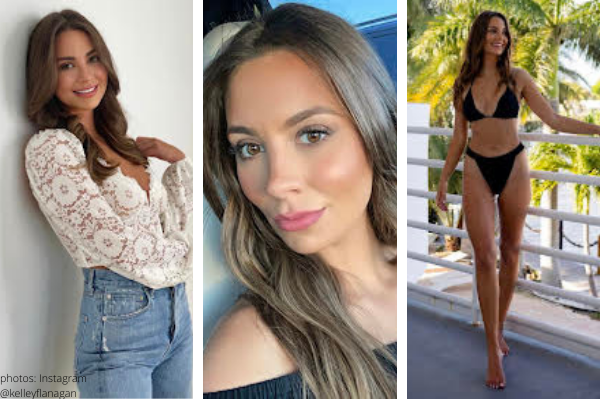 Best wishes being sent out to one of the Taste of Reality team's favorites from Bachelor Nation, Kelley Flanagan, who recently was diagnosed with Lyme Disease.
The brunette beauty was in tears when she shared her unfortunate news with her Instagram followers.
Kelley's health update:
"I know i've shared so many of my health tips and tricks, have always told you that my body is super sensitive and I've always knew something was a little bit off [sic]. When i would consistently see how my body would react to things compared to family/friends, i decided to finally get tested for serval different things and tested positive for lyme disease and several other co-infections [sic]."
Keeping a positive attitude, Kelly explained, "It's a blessing and a curse because now i can target why i feel off so often but also means several different lifestyle changes and extensive research on how to help/hopefully cure this [sic]! I know this is going to be tough for me seeing what my brothers have gone through mentally and physically but i'm going to put so much of my time and energy into figuring this out and combatting this [sic]."
"Love all of you and let's take on this new journey."
View this post on Instagram
Ashley Iaconetti, who first appeared on season 19 of The Bachelor penned, "I'm so sorry Kelley! Sending you so much love. ❤️" while season 22's Kendall Long wrote, "Love I'm so sorry! Must be a relief to finally have an answer to start off from! Know you are surrounded by so much support! You will only become stronger from this 💕."
Former Bachelorettes and season 17 hosts Tayshia Adams and Kaitlyn Bristowe sent their best wishes to Kelley. Tayshia commented, "Praying for you!!♥️" while her partner-in-crime simply left a red heart emoji.
Kelley won't be fighting alone:
There are several other celebrities who also suffer from the disease including Shania Twain, Avril Lavigne, Alec Baldwin, Amy Schumer, and Justin Bieber.
Former Real Housewives of Beverly Hills star, Yolanda Hadid, and her children Bella Hadid and Anwar Hadid also battle Lyme.
Would anyone else like to see Kelley return to the franchise once she's up for it again? Sound off in the comments!
---