Kelley Flanagan Details Break Up With The Bachelor's Pilot Pete Weber
Kelley told the pilot to "get the hell out of my life."
Ashley Hoover Baker May 22, 2021 3:15pm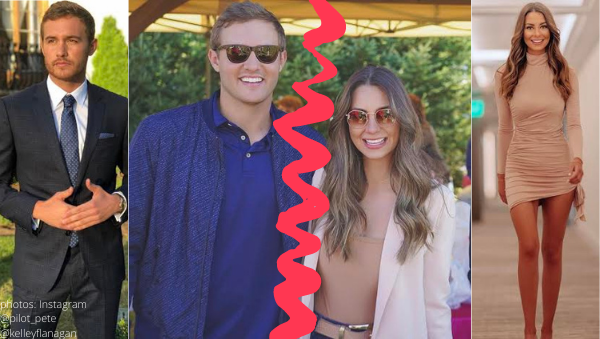 It doesn't look like Kelley Flanagan will accept any more roses from the former star of The Bachelor, Pete Weber…
Kelley made a guest appearance on the Chicks in the Office podcast and shared what really went down between her and the pilot.
Opposites don't always attract:
The attorney explained, "It's not a bad thing- he loves Pokemon cards and he loves playing video games and he loves going out and partying."
"There was a while where I was trying to convince myself that that's what I liked and I was like, 'Alright, Kelley, let's be honest with yourself. Does that add up for you?'" the world traveler detailed.
That was the moment she knew it was over.
But not really…
Fast forward to Valentine's Day.
After Peter disrespected Kelley's wishes by announcing their split on New Year's after she asked him to wait, she decided to reconnect with her ex.
"I came [to visit] for Valentine's Day, we had a great Valentine's Day together."
Things weren't 'great' for long.
"It ended really badly," explained Kelley.
"I essentially went off on him. I ended up leaving New York and going to one of my girlfriend's houses and hanging out with her. He texted me, I didn't respond and then found some news out that I wasn't happy about…I went off and essentially said, like, 'Get the hell out of my life.'"
What went wrong?
Though Kelley didn't explicitly say what caused their story to have such a sour conclusion, she did admit "We still had each other on Find My Friends."
Yikes!
Anyone else's imagination running wild?
Not having it:
Kelley confessed, "He messaged me the other day and I'm just not responsive."
Regarding why she isn't responding to her ex anymore, "There's a lot of things that you hear. This world is very small. I even get stopped by girls in Nashville and they're like, 'My friend hooked up with Peter last week!'"
Well, that'll do it!
Check out the Get'n Cozy with Erin Hill podcast for the latest from Bachelor Nation including EXCLUSIVE INTERVIEWS! Here is the most recent episode with Kimberly Vick from season 14 of The Bachelor with pilot Jake Pavelka.
Do you think it's over for good this time between Kelley and Pilot Pete? Sound off in the comments!
---