Alyssa Edwards: "I Hate This Is My State" After Texas Proposed To Ban Kids From Drag Shows
"I believe that my drag is a form of a superhero power. Instead of a cape and a leotard, it's a wig and a rhinestone gown."
Ashley Hoover Baker June 9, 2022 11:26am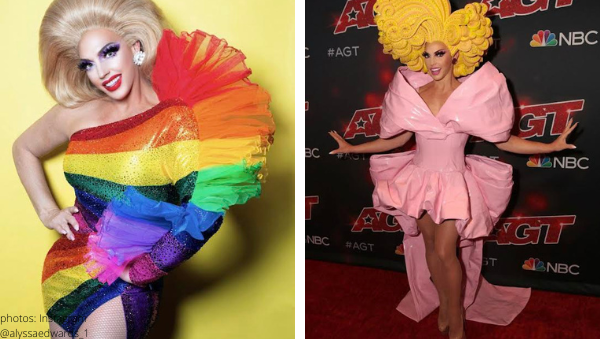 :: Pops tongue in solidarity ::
RuPaul's Drag Race icon, Alyssa Edwards, had some choice words for lawmakers in her home state of Texas regarding the proposed ban to keep kids from drag shows.
"Children's very first teacher and role model will be their parents. It is their parents' decision on what form of entertainment they subject them to."
Texas *Used To Be* Proud:
Alyssa sat down with TMZ for an exclusive interview (just two weeks after the Uvalde massacre) to discuss the state representative's immediate response and call of action after a video surfaced online of a family (including young kids) enjoying a show at a drag bar in Texas.
"What a sad day- a sad day for someone like myself who believes in art and entertainment that can inspire, that can enlighten, that can encourage."
"I hate this is my state."
"I've always been proud to represent Texas. I've always held strong to my roots. I'm very proud to say I'm from Mesquite and that I went to West Mesquite's Baptist Church, so I'm taken back at this very moment."
Alyssa questioned Texas lawmakers' priorities… being that a video of kids attending a drag show (with their parents) infuriated lawmakers into action rather than the mass shooting that left 19 kids and 2 teachers dead.
ICYMI:
Alyssa tweeted her thoughts on Texas's State Representative Bryan Slaton, who has prioritized policing family entertainment over school safety and gun reform.
My thoughts:
1) Our God is a God of Love.
2) Parents are a child's 1st & most important teacher/role model.
3) Drag is an art form which is subjective.
4) You, sir, have tweeted more about #drag than the loss at #Uvalde. Is this truly about children or politics? #Priorities pic.twitter.com/lawP6pJMek

— Alyssa Edwards (@AlyssaEdwards_1) June 7, 2022
Alyssa's history of supporting TX:
Alyssa, appeared on the Netflix docuseries, Dancing Queen which followed Alyssa and her students at the Beyond Belief Dance Company in Mesquite, Texas…which she owns. 
The season five RPDR/RuPaul's Drag Race All Stars season two dragtestant also starred in the 16th season of America's Got Talent with members of her dance company, who made it to the AGT semi-finals.
"I pride myself on being the educator that I am."

"I didn't grow up with RuPaul's Drag Race, so this group of kiddos is very fortunate. They have something they might be able to identify with that is right there on their television. These messages are so empowering because they are messages of hope, of inspiration, and truly fuels me."
"I believe that my drag is a form of superhero power. Instead of a cape and a leotard, it's a wig and a rhinestone gown."
In case you would like to support the survivors and families of victims of the Uvalde mass shooting in Alyssa's home state, there are several Go Fund Me campaigns to support.
---