Chris Sapphire Is Back And Can Be Found On Netflix's New Reality Series The Circle
Do you remember Chris from Dancing Queen with RuPaul's Drag Race alum, Alyssa Edwards?
Ashley Hoover Baker January 2, 2020 3:49pm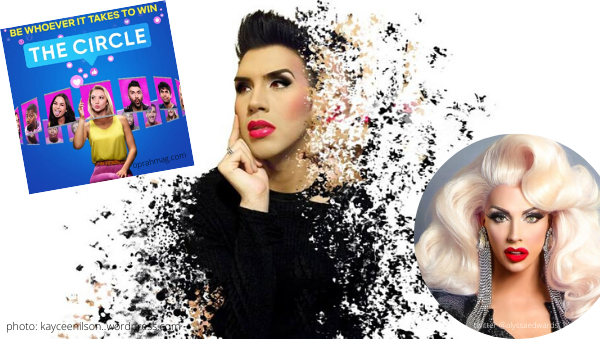 Chris Sapphire is back and can be found on Netflix's new reality series, The Circle. Do you remember Chris from Dancing Queen with RuPaul's Drag Race alum, Alyssa Edwards?
The Circle is best described as 'part Big Brother and part Instagram,' according to Decider.com. "The Circle is a reality competition show where none of the contestants ever interact face to face. Instead, all communication is done via chatrooms, DMs, and the thousands of words conveyed by carefully chosen profile pics. Is anyone who they say they are, and how real does someone have to be in order to win the big cash prize?"
Decider.com wrote, "It's hard to argue that anyone is more real than Chris Sapphire. The fabulous Texan is equal parts glitter and God, and he knows how to spice things up using just an emoji and snappy phrase. But who is Chris Sapphire and where have you seen him before? It turns out, if you're up on the expanded universe of RuPaul's Drag Race, then you may recognize Sapphire." You're definitely familiar with one of Sapphire's best friends and fellow Texan, Alyssa Edwards.
Chris Sapphire previously appeared on Netflix's Dancing Queen, the reality series starring Sapphire's friend Alyssa Edwards! Sapphire's appearance on Dancing Queen, a show that focused on Alyssa's life in and out of her Beyond Belief dance studio, showed just how close he is with the RPDR icon. You might have caught a close up of Sapphire at a recent DragCon, helping at Alyssa Edwards' booth.
If you love all things drag related, you should be listening to the Alright Mary podcast. The hosts hilariously break down all things RuPaul's Drag Race and beyond. Click here for the most recent episode.
Have you started watching The Circle on Netflix? Who are you rooting for so far? Drop names in the comments!
---