RuPaul's Drag Race All Stars Winners: Where Are They Now?
Check out what Chad Michaels, Alaska, Trixie Mattel, Monet X Change or Trinity the Tuck are up to!
Ashley Hoover Baker January 16, 2020 12:16pm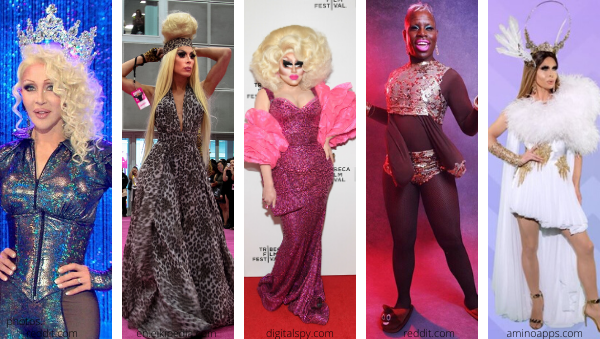 Hey Kitty girls!
Curious what the previous RuPaul's Drag Race All Stars winners are up to? Here's the latest on Chad Michaels, Alaska Thunderf*ck, Trixie Mattel, Monet X Change and Trinity the Tuck!
Let's start with the OG winner of All Stars…
Chad Michaels – All Stars Season 1
Chad was the first runner up on the fourth season of RPDR. His Hollywood presence has been prominent since 2002 when he appeared on the sketch comedy show MadTV. He also appeared on Cher's True Hollywood Story on E!, Women's Murder Club, and Kath and Kim– and that's all BEFORE he became one of RuPaul's girls. You can find Chad currently on Netflix's AJ and the Queen. (A must watch for any drag lover!)
If you're in Las Vegas, you can see Chad perform at The Sin City Classic, the largest annual LGBTQ sporting event in the world, featuring 24 sports and more than 8,000 athletes.
Alaska Thunderf*ck – All Stars Season 2
The season 2 All Star winning dragtestant is a personal favorite of mine, Alaska. She was the RPDR Season 5 runner-up on the  and the winner of the second season of RPDRAS. Since July 2018, she has hosted a podcast with fellow Drag Race alum, Willam Belli. The podcast, titled "Race Chaser" is devoted to discussing and dissecting every episode of RRPDR. Alaska has released three albums to date, Anus, Poundcake, and Vagina.
Currently, you can find Alaska on tour with her show 'The Fem-pire Strikes Back.' On her Instagram page, she captioned her promo photo, "Does this tour have anything to do with Star Wars? It's highly unlikely – But tickets are now on sale via @itdevents 🖤🤍🖤🤍🖤."
Trixie Mattel – All Stars Season 3
,
Trixie Mattel originally placed sixth on the 7th season of RPDR, and later took home the top honor on the third season of All Stars. Trixie co-hosts the web series 'UNHhhh' and its Viceland follow-up 'The Trixie & Katya Show' alongside her 'Judy,' Katya Zamolodchikova.
How is Trixie always so beat? This boss babe is the CEO of Trixie Cosmetics. You may have seen this diva on your small screen outside of the Drag Race franchise, as she appeared on American Horror Story: Roanoke and the web series, Gay of Thrones.
Trixie has released two albums to date. Her third album, Barbara is set to release February 7th, 2020. According to a post on the 'gram, "No it is not named after my dead aunt."
Monet X Change – All Stars Season 4 (tie)
Of course, RuPaul's Drag Race Season 4 ended in a tie. So, let's start with Monet X Change.
Just last year, New York Magazine named Monet one of the top 100 Most Powerful Drag Queens in America. After competing on the tenth season of RPDR, she was eliminated in episode ten, placing sixth overall. She was the first dragtestant to earn the title of Miss Congeniality based on her fellow contestants' votes. Monet has appeared in the film A Queen for the People and Madonna's short film The World of Madame X.
You can find Monet on tour in the live show called Sibling Rivalry, with fellow drag icon, Bob the Drag Queen. The 90 minute Show will be in the UK the week of Drag Con!
Trinity the Tuck – All Stars Season 4 (tie)
Tying Monet for the RuPaul's Drag Race All Stars Season 4 top spot is Trinity the Tuck.
Fans know Trinity for competing on the ninth season of RPDR and tied for 3rd/4th place with Shea Couleé. Currently, you can find Trinity starring on Ru's hot new Netflix series, AJ and the Queen as Danielle Dupri, a well-known pageant drag queen. This polished queen is here to slay!
Wondering who will win RuPaul's Drag Race Season 5?! So are we! Find out everything we know about RPDR Season 5 so far.
Also, if you need even more of RuPaul and his girls in your life, you should check out this bonus episode of the On This Day Entertainment podcast I recorded with Logo's red carpet correspondent, Adam Salandra. He interviewed Ru and several of the queens appearing on Netflix's new show, AJ and the Queen, at the premiere party. Listen to Adam spill all the tea from the red carpet and beyond!
Which of the All Stars winners would you like to see more of? Drop names in the comments!
---