RuPaul's Drag Race All Stars Winners: Where Are They Now?
Find out which winners can be found on Broadway, HBO MAX, Hulu, and more!
Ashley Hoover Baker November 26, 2022 12:29pm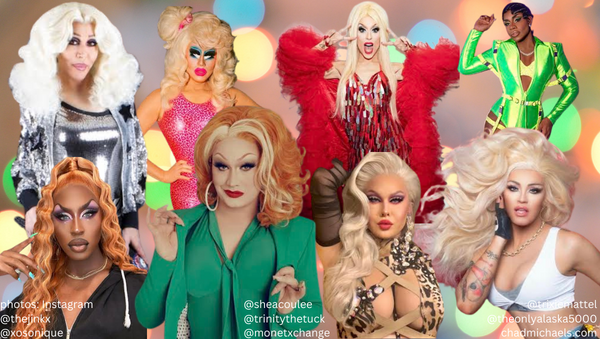 Hey Kitty girls!
Curious what the previous RuPaul's Drag Race All Stars winners are up to? Here's the latest on Chad Michaels, Alaska Thunderf*ck, Trixie Mattel, Monet X Change, Trinity the Tuck, Shea Couleé, Kylie Sonique Love, and Jinkx Monsoon.
Let's start with the OG winner of All Stars…
Chad Michaels – All Stars Season 1
Chad was the first runner up on the fourth season of RPDR. Her Hollywood presence has been prominent since 2002 when she appeared on the sketch comedy show MadTV. She also appeared on Cher's True Hollywood Story on E!, Women's Murder Club, and Kath and Kim– and that's all BEFORE she became one of RuPaul's girls. You can find Chad on Netflix's AJ and the Queen. (A must watch for any drag lover!)
You can keep up with all things Chad Michaels at ChadMichaels.com.
Alaska Thunderf*ck – All Stars Season 2
The season 2 All Star winning dragtestant is a personal favorite of mine, Alaska. She was the RPDR Season 5 runner-up on the  and the winner of the second season of RPDRAS.
You can find Alaska on tour with her show Red 4 Filth alongside Lagoona Bloo and Archie through December 2022. "The Red 4 Filth tour is starting in a week … Tickets are available in my bio & I can't wait to c u there."
Trixie Mattel – All Stars Season 3
,
Trixie Mattel originally placed sixth on the 7th season of RPDR, and later took home the top honor on the third season of All Stars. Trixie co-hosts the web series 'UNHhhh' and its Viceland follow-up 'The Trixie & Katya Show' alongside her 'Judy,' Katya Zamolodchikova.
How is Trixie always so beat? This boss babe is the CEO of Trixie Cosmetics. You may have seen this diva on your small screen outside of the Drag Race franchise, as she appeared on American Horror Story: Roanoke and the web series, Gay of Thrones.
Looking for a gift for your favorite drag-loving friends and family? Trixie and Katya are here to help … because reading is f-u-n-d-a-m-e-n-t-a-l!
"Black Friday signed editions of WORKING GIRLS are available now at your local Barnes & Noble and, you're welcome, we just did your holiday shopping for you! Go pick up five copies and gift them to everyone in your life this year. The holidays made easy with Trixie & Katya 💋"
Monet X Change – All Stars Season 4 (tie)
Of course, RuPaul's Drag Race Season 4 ended in a tie. So, let's start with Monet X Change.
New York Magazine named Monet one of the top 100 Most Powerful Drag Queens in America. After competing on the tenth season of RPDR, she was eliminated in episode ten, placing sixth overall. She was the first dragtestant to earn the title of Miss Congeniality based on her fellow contestants' votes. Monet has appeared in the film A Queen for the People and Madonna's short film The World of Madame X.
Monet recently was the runner up on All Stars 7 and was featured on Hulu's Huluween Dragstravaganza.
You can find Monet on tour in the live show called Sibling Rivalry, with fellow drag icon, Bob the Drag Queen in 2023!
Trinity the Tuck – All Stars Season 4 (tie)
Tying Monet for the RuPaul's Drag Race All Stars Season 4 top spot is Trinity the Tuck.
Fans know Trinity for competing on the ninth season of RPDR and tied for 3rd/4th place with Shea Couleé. Trinity starred in Ru's Netflix series, AJ and the Queen as Danielle Dupri, a well-known pageant drag queen. This polished queen is here to slay!
Most recently, TtT made it to the top four on RPDRAS7 and is turning this holiday season with Nina West. "Tis the season for A Drag Queen Christmas! So many amazing artists! You don't wanna miss this! Get tickets at dragfans.com."
Shea Couleé- All Stars Season 5
The RPDR season 9 dragtestant didn't come to play, she came to slay. 
In addition to an appearance in 2022's A Drag Queen Christmas tour, Shea took to Instagram to share her plans for 2023.
"So excited to announce I'm going to be opening for @BettyWho on The Big! Tour happening Spring 2023!! 🎤 I'll be performing some of your favorites plus some new music and giving you the full Shea Couleé live experience ✨ presale begins next week and tickets go on sale NEXT Friday at 10am local time — can't wait to be performing for you all again!!"
You can keep up with the RPDRAS5 winner at SheaCoulee.com.
Kylie Sonique Love – All Stars Season 6
As the first-ever trans woman to win RPDRAS, Kylie continues to do do it her way.
She recently hosted an event at Pan Pacific Park with Mayhem Miller for Paramount + as well as made an appearance at MTV's Movie & TV Unscripted Awards. Kylie was nominated for the first time in the category Best Reality Return.
Do you want more?
Kylie is joined by Jiggly Caliente, Miss Peppermint, and Carmen Carrera for the second season of the OUT TV original, Translation.
"Exciting news! TODAY 'Translation' Season 2 is officially out! You can stream it on @outtv and @froottv.uk . I hope you enjoy it. I absolutely love getting together with my girls."
Jinkx Monsoon – All Stars Season 7
Jinkx made her-story on RPDRAS7 as the first ever Queen of All Queens and continues to change the world of drag. They just announced an eight-week run as Mama Morton in Chicago on Broadway beginning January 16, 2023.
"
I cannot stress enough that this has been a lifelong dream of mine," explained the RPDR season 5 winner. "I'm making my Broadway debut…we did it kids! 😭🖤."
Who would you like to see on the next season of RPDR: All Stars? Drop names in the comments!
---