VPR's Scheana Shay Admits To Tipping Off Paparazzi On Herself
Ashley Hoover Baker April 22, 2020 1:45pm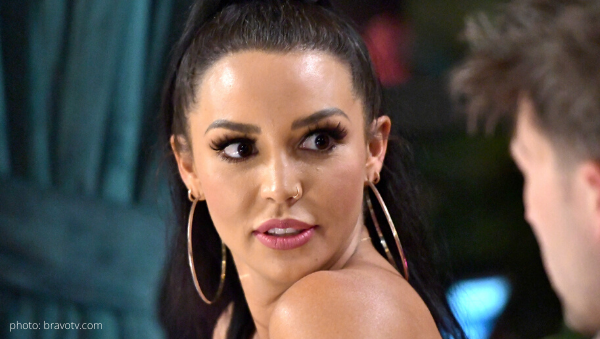 The thirst is real for Sheshu.
Vanderpump Rules star, Scheana Shay, admits to tipping off the paparazzi regarding her whereabouts.
The SURver made a remote appearance with Andy Cohen via Zoom to film Watch What Happens Live. Andy, the king of shade, brought up  recent issue addressed on VPR questioning if Scheana ever called the paparazzi on herself.
Andy was shooketh when the Good As Gold crooner quickly responded with a yes. "Sometimes I have, yes," she told Benjamin Allen's dad.
"I love it that she owns it," Andy continued.
Scheana, the unsung hero of Vanderpump Rules, served an example up to Bravo's daddy on a silver platter when she provided an example of a time she staged a paparazzi moment in front of a Walmart.
Yes, you read that correctly.
Walmart.
According to Scheana, "This woman reached out to me in Palm Springs, to ask if she could paparazzi me outside a Walmart." (Aside- Is 'ask if she could paparazzi me' a thing?! Don't paparazzi just show up? I've never heard of paparazzi asking a 'celebrity' for permission from before showing up, but ok- I'll play along,)
"And I'm like, do I do it just to make the joke? To be like 'Yup I called her!'" That resulted in Sheshu having a planned photo shoot outside of the super store, which  confirmed the rumors previously suggested by her cast mates.
The Blast reminded fans of the time that VPR 's Khaleesi, Stassi Schroeder, tattled on the 34 year old divorcee for calling the paparazzi while chatting with Lala Kent and Randall Emmett on their podcast, Give Them Lala … with Randall.
Stassi spilled, "It was when Patrick [Meagher] dumped me on our anniversary, the day before our trip to Mexico."
Lala added, "I love her so much because she thinks we're all stupid. Do you think paparazzi are just here watching you go to Disneyland with Mickey Mouse ears? It's not happening. You called them, b!tch. Just admit it."
Scheana can't be the only thirsty reality star to call the photogs on herself… Drop names of other thirsty AF celebs who you think would stoop to Sheshu's level in the comments!
---