VPR's Katie Maloney Claps Back At Tom Sandoval For His Treatment Of Tom Schwartz
Katie states she is, "Not going to sit idly by and let this whole 'protocol' thing be an actual thing."
Ashley Hoover Baker January 29, 2020 2:39pm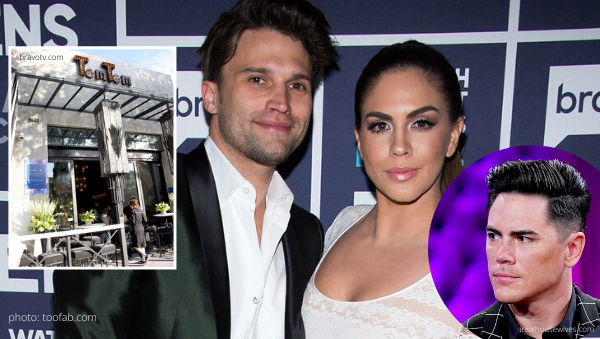 Vanderpump Rules star, Katie Maloney-Schwartz, claps back at Tom Sandoval for his treatment of his business partner, Tom Schwartz. The TomTom wife is NOT happy with how Sandoval has thrown her husband under the proverbial bus on the last couple VPR episodes.
Katie took to Twitter to express where she stands with Sandoval and his suitcase full of excuses regarding Stassi Schroeder's book signing saga.
I did not take kindly to Sandoval belittling my husband the way he did. I grew up in a restaurant and could run circles around Tom and still would never speak to him that way. It's called respect for your business partner. And trust. Enough said.

— Katie Maloney (@MusicKillsKate) January 29, 2020
Katie didn't stop there. An hour later she tweeted…
Sandoval doesn't over see valet and scheduling or anything pertaining to what would make or break an event happen or not at Tom Tom. Not going to sit idly by and let this whole "protocol" thing be an actual thing. The event was a smashing success!!!

— Katie Maloney (@MusicKillsKate) January 29, 2020
Katie's clap back was only encouraged by her followers, who supported her for calling her husband's business partner out for his lack of professionalism.
And, really, it's Sandoval's bar. He should have stepped up and proudly stepped behind the bar…he needs to read up on servant leadership and learn that being "above that" will lead to turnover and shitty culture which = a lot of cost.

— Brandon Peugh (@BrandonPeugh) January 29, 2020
Glad ur speaking up 4 Schwartz.U could tell Sandoval was trying 2 blow smoke because he looked stupid,his behavior was an embarrassment.He couldn't handle Schwartz got everything under control and the party for Stassi was a success without his input.

— Shellie Crouse (@ShellieCrouse) January 29, 2020
Yeah I have to agree Schwartz would never throw Sandoval under the bus like that but he's done it to him a few times now and that isn't cool I think the whole situation is ridiculous honestly I mean if Lisa signed off on it why is it even being questioned now?

— Christine_Maria260 (@ChristyLavalle3) January 29, 2020
The tension at TomTom has not been sitting well with the cast members or Bravoholics. Sandoval's girlfriend, Ariana Madix, was on Watch What Happens Live! after this week's VPR. The caller questioned why Sandoval acts like he's "more essential to the success of Tom Tom than Schwartz is."
Ariana's response has me shooketh. "I don't know that he acts that way," Ariana replied. "I think that they just fill different roles there." Take that as you will.
Do you think Katie is being a good wife by defending her man, or do you think she should stay out of it? Drop your opinion off in the comments!
---