'Petty' Tom Sandoval Blocks @EmoNite's Account After Ariana Madix's Girls Night Out
*No offense to the REAL rockstar, Tom Petty.*
Ashley Hoover Baker April 11, 2023 9:18am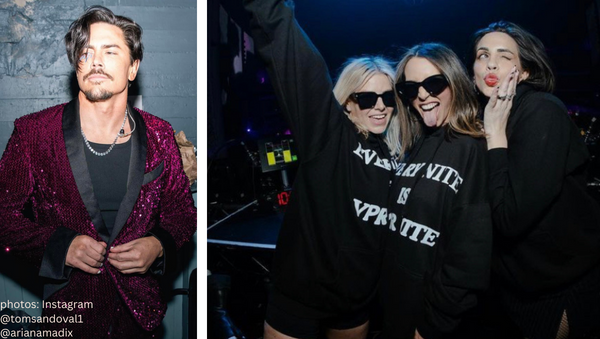 Vanderpump Rules villain, Tom Sandoval, got petty AF after the woman cheated on after nine years of dating, Ariana Madix, had a girl's night out at an Emo Nite.
Tom Petty (no offense to the REAL rock star):
Content creator, TJ, from the TikTok account @EmoNite posted a video mouthing the words from a Kardashian clip, "He blocked me … What a f*cking loser" in front of a photo of Tom Sandoval's cover band, Tom Sandoval and the Most Extras, Instagram page proving the creator has been blocked by the wannabe rock star.
VPR fan reactions:
Pumpers were quick to comment under @EmoNite's post showing their support for Ariana and their disdain for the man who cheated on a dime with former beauty pageant contestant, Raquel Leviss.
"How emo of him 😂"
"TEAM ARIANA FOREVER"
"It's WILD that the band profile picture is just a pic of himself. 🙄"
"Lmao Freud would have a field day exploring his brain and ego"
"awhhh someone's butthurt"
"That's so embarrassing for him 😂😂😂"
ICYMI:
Ariana had a girl's night out with frenemies-turned-friends Scheana Shay and Katie Maloney over the weekend attracting a great deal of positive press for Ariana.
In true narcissist form, this was more than Sandoval's ego could handle.
View this post on Instagram
Do you think Sandoval will ever get back into the good graces of Bravoholics? Drop your prediction below.
---