Tarek El Moussa Tests Positive For Covid Shutting Down Production For Flipping 101 And Selling Sunset
"Representatives say the positive test came back recently, and he is consulting with his doctor but feels no symptoms."
Ashley Hoover Baker September 21, 2021 1:56pm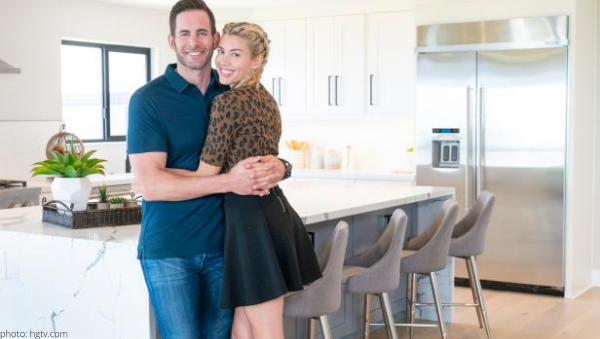 Production shut down for HGTV's Flipping 101 and Netflix's Selling Sunset due to Tarek El Moussa testing positive for covid 19.
Tarek's diagnosis:
According to The Blast, the Flip Or Flop star's "representatives say the positive test came back recently, and he is consulting with his doctor but feels no symptoms."
"Either way, he has decided to quarantine for the amount of time put forth by the CDC, and his fiancee [Heather Rae Young] with join him. Of course, as soon as it is over, he will return to the show."
Thankfully, Tarek is experiencing zero symptoms (both he and Heather are fully vaccinated), so there is speculation the HGTV hunk's covid test results were a false positive.
"The reality star has had several negative tests since the positive one — but, he has decided to stop production and quarantine just to be safe."
Heather's health update:
Heather had a negative covid test; however, "will be quarantined with her fiance anyways."
TMZ reported, "Production sources say filming for 'SS' was halted this past Friday — and that everything is going on standby out of an abundance of caution. Both stars want to do things as safely and responsibly as possible."
Their upcoming wedding:
Earlier this month, Heather gushed over her fiancé to Entertainment Tonight. "I just cannot wait to marry this man! It's gonna be a beautiful wedding and it is coming up."
"We're getting close. We're not doing a traditional wedding. We actually don't have a wedding party, but I do have a maid of honor, who's my sister. And then his best friend from when he was four years old is his best man. The kids, they're gonna be definitely a part of the wedding."
Tarek even bragged that he and his son, Bray, had "matching tuxedos."
View this post on Instagram
The couple hasn't commented on whether Tarek's covid diagnosis will impact their nearing nuptials.
Would you like Heather and Tarek's wedding recorded for either Netflix or HGTV? Share your opinion in the comments!
---