Summer House's Paige DeSorbo Sets The Record Straight On Hookup Rumors With Craig Conover
Find out what went down after the Bravolebrities filmed Winter House!
Ashley Hoover Baker April 20, 2021 11:18am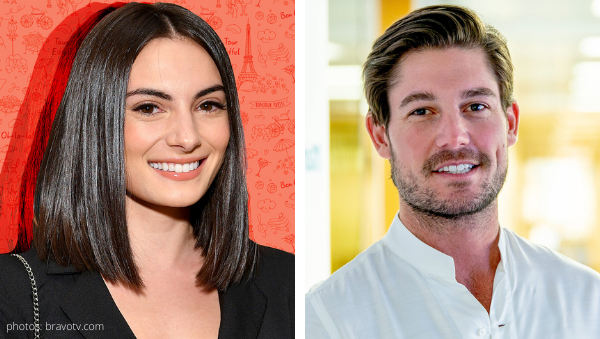 Summer House's Paige DeSorbo addressed the rumors of her and Southern Charm's Craig Conover being an item. Paige spilled the tea on the Not Skinny But Not Fat podcast with her Bravo bestie, Hannah Berner.
Relationship status:
"Craig and I are a thousand percent not dating," proclaimed Paige.
The fashion contributor and the pillow designer sparked hookup headlines when they were caught getting cozy in Charleston after filming Winter House.
"I planned this trip actually, because my brother and his girlfriend were going away for her birthday and they were going to go to Miami and then they were like, 'You know what? Let's go to Charleston. Like, everything's fully open.' And it just happened to land on the weekend of our reunion."
The recently single Summer House star described Craig as "very accommodating" when he heard Paige and Ciara Miller (who filmed the Bravo crossover show Winter House with the pair) were planning a trip to Charleston.
"When he found out we were coming, he was like, 'Oh my God, I'm planning the whole weekend.' And we hung out with him the whole time."
Paige and Craig's history:
Winter House isn't the first time Paige and Craig's paths have crossed.
"Craig and I have known each other for years because he came to the house like two, two years ago."
Paige elaborated, "So we've always gotten along. We've always been friends. We have, like, very similar personalities, but we are not romantically involved or anything, but we are very good friends."
But what about the anonymous tip that claimed the pair were holding hands:
The Gossip-Girl-esque Instagram account, DeuxMoi, published an anonymous tip that claimed the witnessed Paige and Craig holding hands, closely talking, hugging and laughing at Uptown Social, a South Carolina sports bar. The tip also tattled that the hotties left holding hands.
"People saw whatever they saw, but like, it wasn't. It was blown way out of proportion," Paige promised.
Paige confessed, "Were drunk the whole time! People saw whatever they saw, but like, it wasn't — it was blown way out of proportion. And like, a lot of people were coming up to us, 'cause they think it was just the fact that the four of us [Paige, Ciara and Craig were joined by Southern Charm/Winter House star, Austen Kroll] were all together that it looked like, 'Oh my God! They're, like, dating.' But there were so many other friends around us and we just happened to be blackout drunk every single night."
Do you think Paige and Craig would work romantically? Sound off in the comments!
---