Southern Charm's Shep Rose Believes He Gets Girls Easier Than Pete Davidson And Harry Styles
"Strip away the celebrity for second. And consider it."
Ashley Hoover Baker November 21, 2022 4:01pm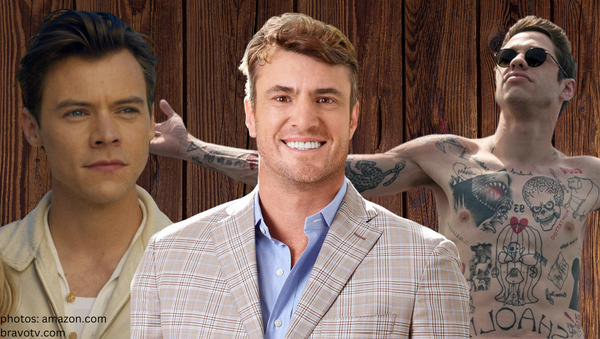 Confident or delusional?
Southern Charm's Shep Rose is confident he can pick up a woman easier than comedian Pete Davidson or music sensation, Harry Styles. (Bless his heart.)
The Bravolebrity took to Twitter to share his hot take after @chicksintheoffice shared a side-by-side pic of the SNL alum and the former One Direction singer.
"Guess I'm an old f*cker. But i feel like if i walk into a room and these two guys are there looking like this, I have zero anxiety about trying to get the girl. I mean zero."
"Strip away the celebrity for second. And consider it."
History 101:
In case you forgot, Pete was engaged to singer Ariana Grande before dating Kim Kardashian. The King of Staten Island star is currently rumored to be dating model Emily Ratajkowski.
Harry famously dated Dr. Taylor Swift (Hey Siri, Play 'Style') and most recently Olivia Wilde, with whom he starred in Don't Worry Darling.
Taking it to the comments:
As you may assume, Shep did NOT receive the response he expected.
I'm guessing you're the kind of guy that relentlessly hits on a girl who then berates and insults her when you get rejected. Both of these men are objectively more attractive than you, and they've got the sauce. Thanks for reminding us how little you respect you have for women
— Mr. Pibbs (@EmArPibbs) November 20, 2022
It's the difference between confidence and arrogance; between self-effacing and other-humiliating; between taking yourself less seriously vs anger anyone who pokes fun at you; humility vs dominance over your partner. Girls get it.
— Elvis Died Here (@toiletelvis) November 20, 2022
Ummm I'm not doubting your game but…Pete is packing 10" so he's got game and Harry is Harry I think you find a girl in the room you like and hope she doesn't see those two in the same room! Lol 😂
— Rob A (@SaltLife_89) November 20, 2022
I'd much rather them than a entitled rich man mocking homeless people 🤷🏽‍♀️
— Mel (@Meldavisxx1) November 20, 2022
Posts like this is why I or any woman/man would choose a Pete Davidson or a Harry Styles over a Shep Rose. Your personality is disgusting & you're disgusting to women, And that makes YOU ugly. Even with your celebrity.
— Lana Kain (@lanakain2122) November 20, 2022
Oh Shep… I don't think the replies are going to go how you think they are. Nearly the entire world would agree Harry Styles is far more attractive than you. Straight men included.
— j🐝 (@LocalJess) November 20, 2022
Youre the one who is famous for being wealthy. These 2 are famous for being talented. You wouldn't have a chance.
— Ladies and Gentlemen, her. (@mmmcintyre) November 20, 2022
Your bravado is embarrassing and your opinion is wrong.
— Fairy Buzzed (@BigBuzzed) November 20, 2022
There is only one way to settle this. Play 'f*ck, marry, kill' with these three men in the comments and we'll see how Shep does. (I'm predicting more deaths than Kenny on South Park, for the record …)
---