Ryan Boyajian Slams Tamra Judge For Her Treatment Of Jennifer Pedranti
Staff October 12, 2023 5:49pm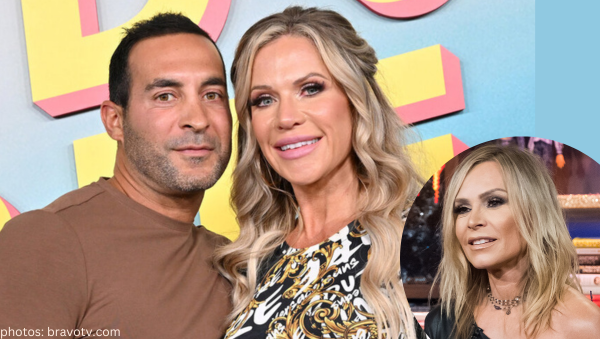 Real Housewives of Orange County boyfriend, Ryan Boyajian, dished on what happened behind the scenes the night Tamra Judge threw a napkin at his girlfriend, Jennifer Pedranti.
"Jen's not going to like me saying this, but I'm going to say it," began Ryan while making an appearance on the All About TRH podcast.
"Early in the first few weeks of filming, Tamra says to Jen, 'No cameras.'"
Ryan said that Tamra disclosed to Jennifer that "Eddie can't stand" being around Tamra right now. "I'm coming home every night after filming drunk. I'm getting wasted. I'm way out of line and I'm saying all of this crazy shit."
"Right before Nobu, before they went upstairs with the napkin throwing – they were not mic'ed," elaborated Jennifer's boyfriend.
"The ladies are in the bathroom getting cleaned up. Tamra is putting make up on. She looks to Jen and puts lipstick on Jen and she says, 'Does Ryan hate me?'"
Jen answered, "He doesn't hate you, but come on now, girl."
Tamra admitted she owed Ryan a "huge apology" to and she wanted to "make it right" with her friend's partner.
"Jen's like, 'I really think you should.'"
"Tamra says, 'Let's go upstairs and have fun tonight."
"Jen says, 'I would love that. I've been in the middle of your firing squad for the last few weeks. Let's go upstairs and have fun.'"
Ryan continued, "Within five minutes of that conversation, Tamra is throwing a napkin in her face."
"I think it's part of [Tamra's] schtick."
"Jen is so authentic and loving, so when you have that conversation, you let your guard down."
She thought Tamra "is acknowledging some wrongdoing. She's going to apologize to my man. She's apologizing to me. Alright, I can not be so on edge."
"Then, to walk upstairs and get kicked in the teeth again. I don't know, I just think the way she does it – she's a professional."
Do you agree Tamra is a "professional" shit stirrer? Sound off below.
---